By Dejan Kovacevic | Trib Total Media
Morning, Lunatics …
>> The weekly chat will move to Tuesdays a week from today, with a new start time of 1 p.m.
There are a bunch of scheduling reasons for this, but the principal reason — as with just about everything I prioritize — is Steelers. The chat will almost immediately follow the Mike Tomlin press conference, providing a forum for football fans to air out right away.
The chat this week will still be Friday at noon.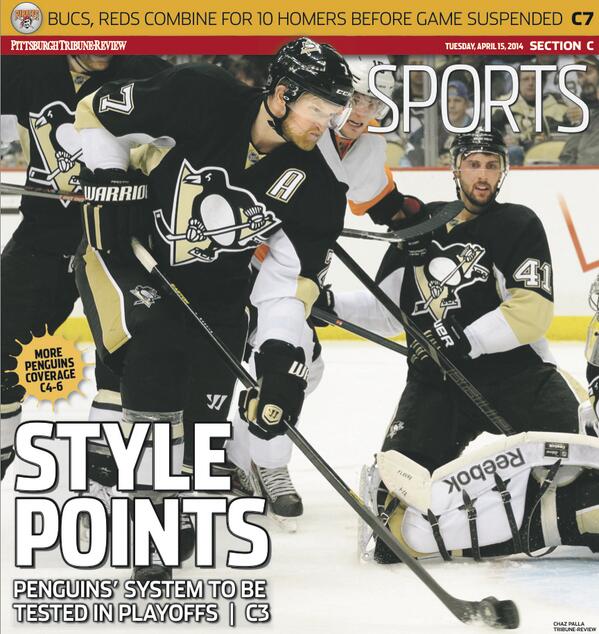 >> Dan Bylsma's system will be scrutinized more closely than ever this spring, reports Josh Yohe.
The biggest issue I've got with the Penguins' style — and I'll get into this more once the playoffs start — is the 1-3-1 formation in the neutral zone. The left defenseman is often left on an island, and that can create for some ugly scenes. We saw a few late in the season, even with a terrific skater like Olli Maatta. It just isn't easy stopping an NHL forward with a full head of steam one-on-one. Moreover, Maatta specifically is the one left defenseman required to stay back. Anyone who saw his forays into the rush this season will know why that's hardly ideal.
Who will man the third and fourth lines? Rob Rossi has answers.
Who needs to step up? Rossi again.
The Penguins are asking fans for a 'Gold-out' Wednesday, which is obviously an improvement over the Whiteout they'd been using that belongs to the hockey fans of Winnipeg.
Here's TribLIVE's Penguins page and our Chipped Ice blog.
Here's Blue Jackets news from the team's official site.
Here are official game highlights on NHL.com.
>> The Pirates and Reds combined for 10 homers and still aren't done. Travis Sawchik reports from Great American Band Box on the suspended game.
Clint Hurdle on Gregory Polanco's ridiculous start, by Sawchik.
Here's TribLIVE's Pirates page and our Bucco Blog.
Here's Reds news from the Cincinnati Enquirer.
Here are official game highlights on MLB.com.
>> Our panel on WPXI-TV's Subway Final Word assessed the Pirates through their first dozen:
>> Thank you, as always, for reading.