By Dejan Kovacevic | Trib Total Media
Morning, Lunatics …
>> The TribLIVE Radio show today — 2-3 p.m. — will feature you once again. We've got all kinds of ground to cover, so I'll open by taking your calls on any topic. Will the Penguins sweep the Blue Jackets? Or will the series take five games? Still worried about the Pirates at first base? How about the rotation? You name it.
So do it. Call me at 412-320-7925.
Feel free to email sportstalk@tribweb.com if you can't call. But I'd really rather hear from you.
At 2:30, we'll be joined by Josh Yohe, the Trib's hockey beat man.
And at 2:45, we'll have more wit and wisdom from our @SuckMeter, this on Tony Sanchez.
To listen, just click on the link up top. If you're mobile, try the iPhone version of the TribLIVE Radio app, or the Android version. Both are free and ridiculously easy to use.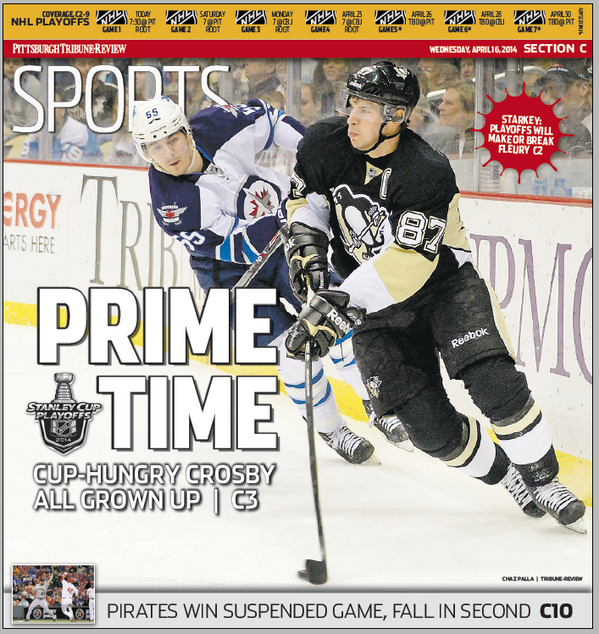 >> Here we go!
Sidney Crosby is no Kid anymore when it comes to playoffs, by Yohe.
Evgeni Malkin is ready and raring, by Rob Rossi.
Marc-Andre Fleury has plenty to prove, by columnist Joe Starkey.
Tomas Vokoun will merely provide depth, by Chris Adamski.
The Blue Jackets sound confident, by Craig Merz in Columbus.
Advanced metrics of the matchup, by Jesse Marshall.
Honestly, I don't have much to add beyond what the Monday column described: Penguins in five.
Any two teams can be pitted, no matter how lopsided, and someone can concoct reasons why a series should be tight or could even swing an unexpected way. That shouldn't happen here. It can't happen here. The Penguins have markedly superior skill on the top two lines, are much better on both special teams, have a more accomplished and mobile defense … they're even healthier than Columbus, if you can believe that. The variable that still screams out is that of Fleury vs. Sergei Bobrovsky, and goaltending always can be enough of a variable to dwarf all others. But I don't see it. I really don't.
I'll respect Bobrovsky and his 2013 Vezina Trophy enough to presume he'll steal one game. No more.
Oh, and if it's a Cup pick you want, it's Teemu Selanne going out on top.
Our panel on WPXI-TV's Subway Final Word each picked one possible way the Penguins could lose this series:
And here's what TribLIVE Radio's morning team of Ken Laird and Guy Junker had to say about the playoffs finally being upon us:
Here's TribLIVE's Penguins page, our Chipped Ice blog and our photo gallery.
Here's Blue Jackets news from the team's official site.
Here are official game highlights on NHL.com.
>> The Pirates had to settle for a pseudo-split with the Reds. Travis Sawchik reports from Great American Band Box.
Wandy Rodriguez's vanishing velocity, by Sawchik.
Here's TribLIVE's Pirates page, our Bucco Blog and our photo gallery.
Here's Reds news from the Cincinnati Enquirer.
Here are official game highlights on MLB.com.
>> The Steelers pick up another punter, by Alan Robinson.
Here's TribLIVE's Steelers page and our Steel Mill blog.
>> Thank you, as always, for reading. I'll cover Game 1 today, the Pirates' return to PNC Park tomorrow. Hope you can call the show!