By Dejan Kovacevic | Trib Total Media
COLUMBUS, Ohio — Morning, Lunatics …
>> The Monday column from the site of tonight's Game 3 blows right by all the other debate points of the Penguins in these playoffs and gets right to the two players who should be making the biggest difference.
Being completely candid here, it's always been how I hoped Consol would turn out and, sadly, didn't. There's a lot to like about Consol on the inside, but it all apparently came at the expense of quality design on the outside. The only plus to that for Pittsburgh is that it's relatively hidden now and will be more so in the future.
Columbus' hockey growth is covered by our Jason Mackey.
The city's excitement over the franchise's first playoff win, by Craig Merz.
And here's some of what the Blue Jackets' Boone Jenner told me about what will be the biggest hockey game ever played in Ohio:
Marc-Andre Fleury has been a bright spot, by Josh Yohe.
The defense's lack of time together is showing, by Rob Rossi.
Injury updates on Brian Gibbons and Marcel Goc, by Rossi.
Here's TribLIVE's Penguins page, our Chipped Ice blog and our photo gallery.
Here's Blue Jackets news from the team's official site.
Here are official game highlights on NHL.com.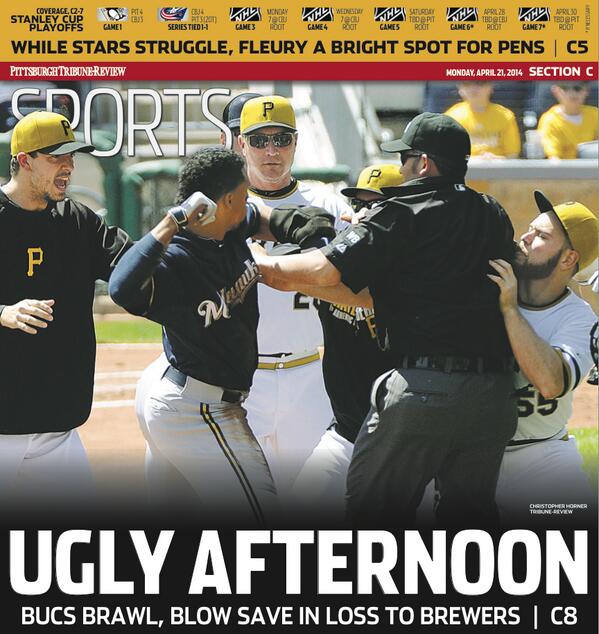 >> So folks went to a baseball game, and a hockey game broke out. The Pirates lost to the Brewers again, but all the buzz was about that big brawl, by Travis Sawchik.
All I'll add to that, since I was driving to Columbus as this happened and wasn't covering, is that I share Gerrit Cole's view that he needs to be smarter in the future, whether a guy's the hugest dirtbag in the world or not. It's no way to live.
Here's video of the brawl:
Clint Hurdle stands behind Jason Grilli, by Sawchik.
Here's TribLIVE's Pirates page, our Bucco Blog and our photo gallery.
Here's Brewers news from the Milwaukee Journal-Sentinel.
Here's Reds news from the Cincinnati Enquirer.
Here are official game highlights on MLB.com.
>> The longevity of the Steelers' recent draft picks is examined by Mark Kaboly.
>> Reminder: Our weekly chat will be tomorrow at 1 p.m.
>> Thank you, as always, for reading.