By Dejan Kovacevic | Trib Total Media
COLUMBUS, Ohio — Morning, Lunatics …
>> The Wednesday column examines the Penguins' power play and why it might work now but not for long.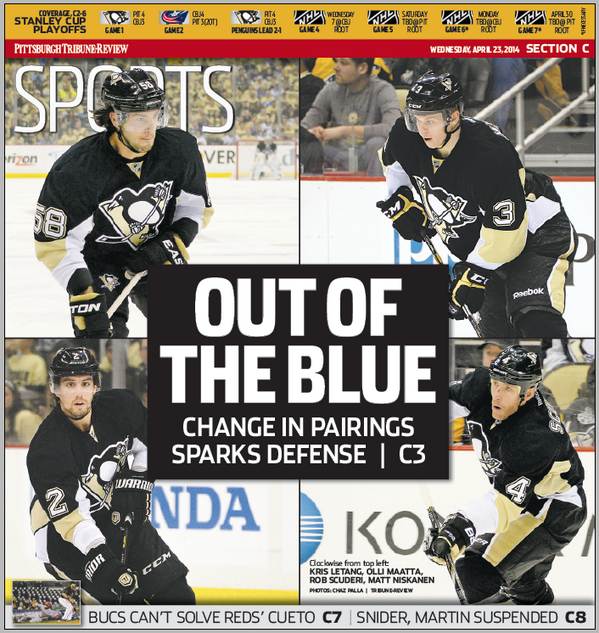 The slightly revised, slightly revitalized defensive corps is our main news story for the day, by Josh Yohe.
Here's an accompanying video of stuff from Rob Scuderi and Olli Maatta:
Evgeni Malkin has found 'confidence, maybe,' by Rob Rossi.
The Blue Jackets claim they'd love another 3-1 lead, by Craig Merz.
Brian Gibbons skates again, and other notes, by Rossi and Yohe.
Blogginess from the scene: You know, I'd been wondering if anyone else thought the Blue Jackets switched to that 1-4 too early in Game 3, and it turns out there was at least one other. James Wisniewski, one of Columbus' better defensemen, spoke of how his team 'went to a prevent defense that sometimes prevents you from winning.' He didn't cite the system, and he certainly didn't reference Todd Richards, but the meaning was unmistakable. … You coach the team you have, not the team you wish you had. The Blue Jackets are built to forecheck. See Team USA, Sochi. … I don't know if Gibbons will play or not, but I do know the Penguins don't like to have injured players speaking to the media. He did so yesterday. … I asked Maatta if he was recovered from Sochi, or even just feeling fresh somehow: 'I am now. The playoffs are here. This is the best time of year.' … Dan Bylsma talked a lot about 'ugly goals' in his brief news conference. And I mention that only because it came in a somewhat indirect response to another reporter's direct question about what Sidney Crosby and Malkin must do to score. Feel free to connect the dots between that and my reference to those two in the power-play column up there. … The 8.3 TV rating for Game 3 in Columbus was by far a franchise record. It's roughly a third of what the Penguins will generally get, but it's still a highly encouraging figure for the market.
Here's TribLIVE's Penguins page, our Chipped Ice blog and our photo gallery.
Here's Blue Jackets news from the team's official site.
Here are official game highlights on NHL.com, including full footage of the most Flyers thing ever.
>> This time, Johnny Cueto silenced the PNC Park crowd (what there was of it) and the Pirates' bats, by Rob Biertempfel.
Russell Martin and Travis Snider get suspended, by Travis Sawchik.
Here's TribLIVE's Pirates page, our Bucco Blog and our photo gallery.
Here's Reds news from the Cincinnati Enquirer.
Here are official game highlights on MLB.com.
>> Albert Pujols homered twice to achieve 500, a wonderful milestone that's covered here by the Orange County Register. Here's hoping for 263 more, big guy!
>> Cam Heyward gets paid by the Steelers, by Alan Robinson.
Oh, and the NFL schedule will be released at 8 p.m. today, shown exclusively on NFL Network. Which basically means will have to wait for independent confirmation to find out if it's real.
>> Pitt has its hoops opponents for the next two seasons, by Kevin Gorman.
>> I'll also check in with TribLIVE Radio at 11:30 a.m.
>> Thank you, as always, for reading.