By Dejan Kovacevic | Trib Total Media
COLUMBUS, Ohio — Morning, Lunatics …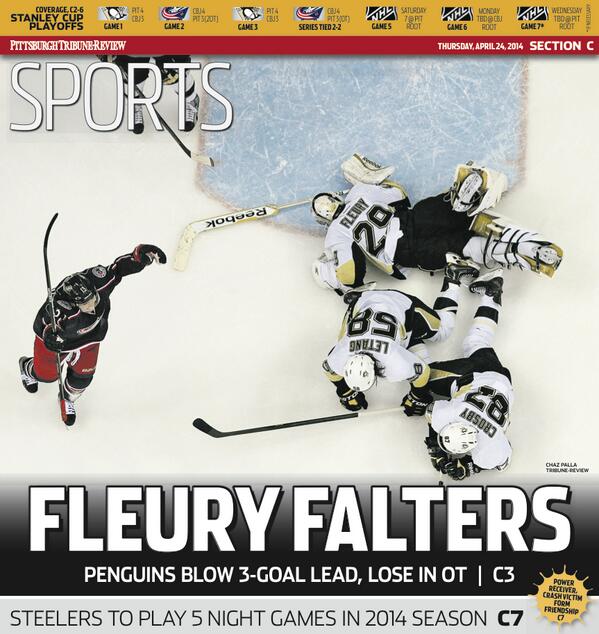 >> The Thursday column is about Marc-Andre Fleury.
Here's a bit of what Craig Adams had to say afterward:
The game story, by beat man Rob Rossi, looks at a series that's apparently just getting started.
All those penalties didn't help the visitors, by Josh Yohe.
Nick Foligno claims he called his OT goal, by Justin Boggs.
Marcel Goc close to a return, and other notes, by Rossi and Yohe.
Blogginess from the scene: Criticism isn't needed of Sidney Crosby and/or Evgeni Malkin, at least not in the opinion sense. Simple facts will do. They've now gone eight playoff games without a goal, including the four vs. Boston last spring. In this series alone, they've totaled eight assists, six of them secondary assists. In this game, Crosby had three shots on goal. Malkin had zero. Tanner Glass had five shots, meaning he had more than Crosby and Malkin combined. … I asked Crosby after the game if the Penguins as a whole took the foot off the pedal after a first period in which both stars, especially Malkin, played well. Crosby replied that, "We were short-handed a lot in the second period, so I don't think so. It's tough to keep momentum like that." He's right. But there was a lot of game all around that, and not a lot of star power. … Dan Bylsma canceled today's practice. That also doesn't require an opinion. … Bylsma had on the ice for the final minute of regulation what is by far his worst defense pairing, Kris Letang and Rob Scuderi. … Bylsma left the arena with his only timeout firmly in his pocket, one that could have been used to refresh one of the other pairings. … The top line, Crosby's line, Watch the Foligno goal again, if you can bear it. It really does knuckle badly. … The officiating was terrible. I'm not coming close to blaming that for the Penguins' loss. Doesn't change the feeling. … Brandon Sutter was good. Really good. So was Paul Martin. Shame neither was on the ice for the final minute. … Lots of readers asking about Crosby's health. How did he look in the first period? … What I think about what should happen if the Penguins lose this series hasn't changed at all. … From the opposing perspective, it was an incredible scene at Nationwide after the Foligno goal. Not a soul left even several minutes after the three stars came out. Chanting 'C-B-J!' A truly franchise-altering moment.
Here's TribLIVE's Penguins page, our Chipped Ice blog and our photo gallery.
Here's Blue Jackets news from the team's official site.
Here are official game highlights, from the NHL's YouTube channel:
>> The Pirates didn't hit much again, by Rob Biertempfel.
Earlier in the day, Clint Hurdle made his monthly visit with TribLIVE Radio's Ken Laird, and the two predictably had a pretty cool talk:
Here's TribLIVE's Pirates page, our Bucco Blog and our photo gallery.
Here's Reds news from the Cincinnati Enquirer.
Here are official game highlights on MLB.com.
>> The Steelers' 2014 schedule is set, by Alan Robinson.
We already knew all their opponents, as well as the home/road breakdown, so all that's newsy here is chronology. Most interesting to me is that they open with 11 teams who combined to go 60-84 last season, including the Browns twice in the first five games, plus the Bucs, Texans and Jaguars.
It's foolhardy to suggest any 8-8 team should romp under any circumstance, but it's nonetheless obvious that the Steelers had better do well in this span. Because it gets a lot tougher after that, not to mention accompanied by more night games.
>> I'll check in with TribLIVE Radio at 11:30 a.m.
>> I'm off the next couple days, heading back home for Game 5 Saturday night. Thank you, as always, for reading.