By Dejan Kovacevic | Trib Total Media
Morning, Lunatics …
>> No Friday column this week because … well, because the schedule is almost entirely dictated by Stanley Cup playoffs this time of year. I'll be back to cover Game 5 tomorrow night for a Sunday column.
With a couple days between action, then, let's talk a little ball …
>> The Pirates plummeted close to last place after another loss to the Reds, Travis Sawchik reports from PNC Park. And this happened in large part because Neil Walker's run up there in that Chris Horner photo was all the offense could muster.
Which is further evidence, of course, that the offense stinks, right?
Or does it?
The Pirates are tied with the Reds for seventh in the 15-team National League in runs (90), second in home runs (28) and 10th in OPS (.671). Let's start there. That's not terrible. It's about average. And it's actually an upgrade over a year ago, when they finished ninth in overall offense according to the Bill James Handbook.
Complain all you want about the Pirates being held to two or fewer runs in 12 of their first 23 games, but the proven theorem over time in baseball is that its numbers are best measured … well, over time. Runs are runs. Scoring is scoring. It's unfortunate that it's come in bunches to date, but it doesn't take away in the slightest from its validity. Nor its predictive quality.
It's frustrating. It's exasperating. But it does nothing to tell you what's going to happen in the future. Those other numbers up there do. The timing of hits is far more a matter of luck than skill.
Let's take this from another angle. Check this out. Those are the National League's team ERAs, and you'll notice at a glance that half of the top six are the Brewers, Cardinals and Reds. The Cubs rank 12th. And as everyone knows, all of the Pirates' games to date have been within the Central Division, which obviously has a whole lot of good pitching. Sure, there's a chicken-and-egg element to the argument since all those teams faced the Pirates a lot, but all had a majority of their games against someone else.
Finally, let me throw this out as evidence that it's going to get better: Most guys, though not at all, are a bit below where you'd expect. But Pedro Alvarez is way below. He's got a .176/.286/.412 line with six home runs and 14 RBIs. Referring back to Bill James, which does a frighteningly accurate set of predictions for every player in the majors, Alvarez's 2014 line should wind up .251/.325/.495 with 34 home runs and 100 RBIs.
No sport sees water rise — or fall — to its level like baseball. As Adam LaRoche used to tell me each April, 'No matter what you see right now, I'm going to end up hitting about .275 with 20-25 homers and 85 RBIs.' And he did.
All that Alvarez is still to come.
Relax already. And for heaven's sake, let the Gregory Polanco nonsense go. He isn't coming until mid-June. There's nothing to discuss, nothing to debate.
Here's TribLIVE's Pirates page, our Bucco Blog and our photo gallery.
Here's Cardinals news from the St. Louis Post-Dispatch.
Here are official game highlights on MLB.com.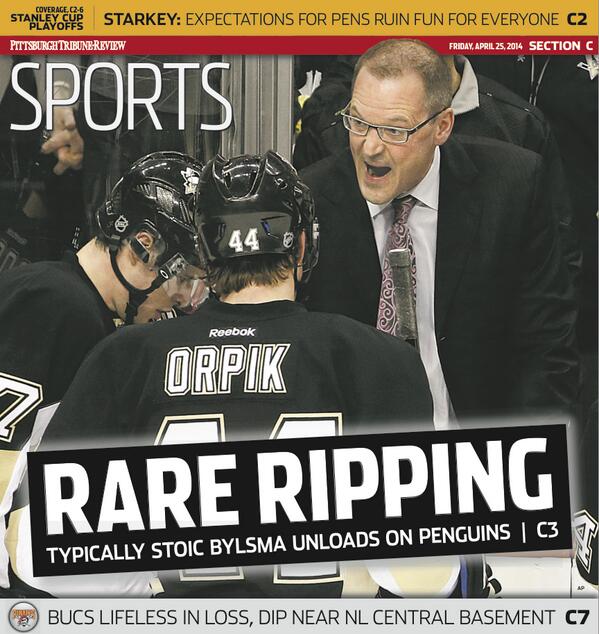 >> Dan Bylsma spoke a few mildly critical words about the Penguins' 'compete level,' as Jason Mackey reports, and maybe it was just the context that made it sound like actual criticism.
In case anyone needs a reminder of what actual criticism looks like, hey, seems like a swell time for Michel Therrien's greatest hit …
That's how it's done, kids. Soff is too kind for this current group.
Sidney Crosby is 'healthy,' per Bylsma, reports Rob Rossi.
Whatever happened to Pittsburgh enjoying the playoffs? Columnist Joe Starkey asks.
Here's TribLIVE's Penguins page, our Chipped Ice blog and our photo gallery.
Here's Blue Jackets news from the team's official site.
>> I'll check in with TribLIVE Radio at 11:30 a.m.
>> Thank you, as always, for reading.