By Dejan Kovacevic | Trib Total Media
Morning, Lunatics …
>> The Wednesday column is one of those Xs and Os pieces I really enjoy writing but I'd imagine have a really limited audience, regardless of sport. Oh, well. This one is about the Penguins' F3 system of backchecking, and it includes something you might not have known about Jacques Martin's role on the staff.
Hope you give it a chance!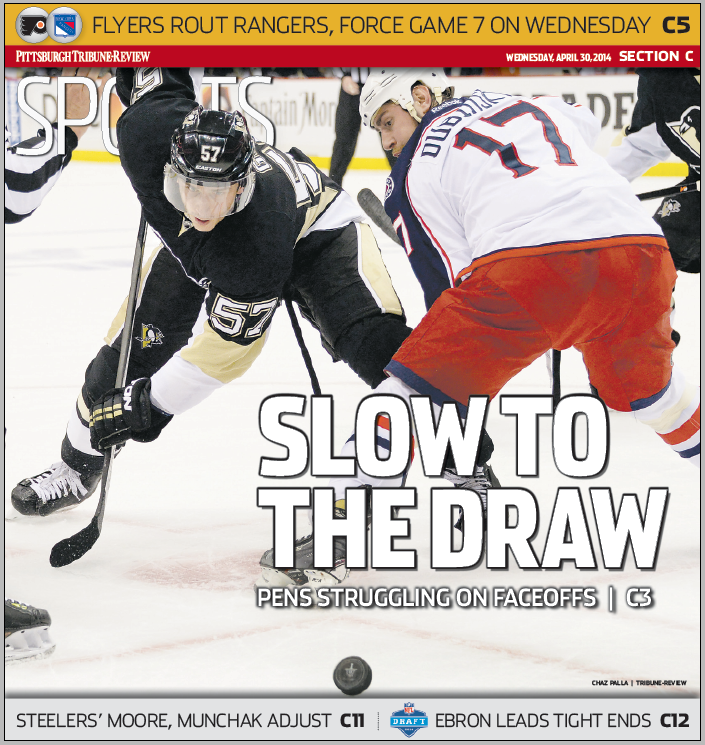 Faceoff success is pivotal in the playoffs, by Jason Mackey.
Three shorties is three too many, by Josh Yohe.
Paul Martin's excellence is calculated by Jesse Marshall.
It's Flyers-Rangers tonight at the Garden in Game 7 for the right to come to Pittsburgh. Here are Game 6 highlights of Wayne Simmonds' hat trick from the NHL's YouTube channel:
Here's TribLIVE's Penguins page, our Chipped Ice blog and our photo gallery.
>> The TribLIVE Radio show today — 2-3 p.m. — will feature you once again. We've got all kinds of ground to cover, so I'll open by taking your calls on any Pittsburgh sports topic.
So do it. Call me at 412-320-7925.
Feel free to email sportstalk@tribweb.com if you can't call. But I'd really rather hear from you.
At 2:30, we'll be joined by Rob Biertempfel, the Trib's baseball beat man. And at 2:45, we'll have more wit and wisdom from our @SuckMeter.
To listen, just click on the link up top. If you're mobile, try the iPhone version of the TribLIVE Radio app, or the Android version. Both are free and ridiculously easy to use.
>> The Pirates' bullpen is continually evolving, by Biertempfel in Baltimore, where there was no ball to be played yesterday.
Starling Marte had been set to hit seventh, by Biertempfel.
Here's TribLIVE's Pirates page, our Bucco Blog and our photo gallery.
Here's Orioles news from the Baltimore Sun.
Here are official game highlights on MLB.com.
And here's what the Subway Final Word panel had to say when asked to identify the team's most surprising problem to date:
>> A handful of Steelers spoke with media after voluntary workouts on the South Side. Alan Robinson covered.
Our daily NFL draft preview today looks at tight ends, by Robinson.
Here's TribLIVE's Steelers page and our Steel Mill blog.
>> The rape case James Franklin undoubtedly hoped to leave behind at Vanderbilt — involving his players — reared its head anew, and this time Franklin's name was attached. The Nashville Tennessean reports.
Here's a January column I wrote on this very possibility. Some Penn Staters were not happy I invested a column on the topic.
>> Pitt basketball suspended Derrick Randall for DUI, by Kevin Gorman.
>> Our weekly chat covered all kinds of ground, not all of it sporting, as I continue to be challenged for some form of fanhood.
>> I'll join the WDVE Morning Show gang at 8:15 a.m. Available online.
>> Thank you, as always, for reading.