By Dejan Kovacevic | Trib Total Media
Morning, Lunatics …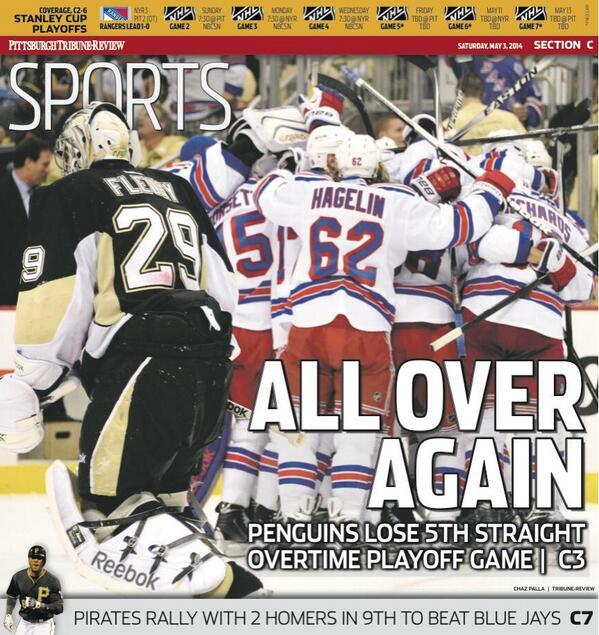 >> The Saturday column from Game 1 of the Rangers series focuses on
Here's what Lee Stempniak told me about that period:
The game story, by Rob Rossi.
The overtime goal, by Chris Adamski.
The Rangers' reaction, by Jason Mackey.
News and notes, by Josh Yohe.
Here's TribLIVE's Penguins page, our Chipped Ice blog and our photo gallery.
Here's Rangers news from the New York Daily News.
Here's the Game 1 OT goal by Derick Brassard from the NHL's YouTube channel:
And just for fun, here's Evgeni Malkin mic'd up for his assist on James Neal's goal:
Blogginess from the scene: Playoff lineup changes are born from lousy efforts like this, and I'll be surprised if Brian Gibbons isn't playing in Game 2. The guy who should sit for him is Craig Adams, but that'll never happen. So the guess here is Beau Bennett. … This kind of goes to what's in the column, but the Rangers outhit the Penguins, 26-23. The tired Rangers. … Brandon Sutter has been the team's best playoff performer. In this game, he logged 16:04 of ice, seventh-most among the forwards. … In watching Rangers-Flyers from afar, no one impressed me on New York's roster up front more than Benoit Pouliot. Terrific skater for such a lanky kid. … I asked Pouliot after this if the Penguins came at the Rangers as hard as the Flyers did. His answer was diplomatic: 'They're different kinds of teams.' Well done, young man. … The Penguins committed 11 giveaways to the Rangers' four. … Not sure what was wrong with the usually reliable Matt Niskanen/Olli Maatta pairing, but they were at least partly responsible for New York's first two goals. … Two more offensive-zone penalties, these for Jussi Jokinen and Bennett. … These OTs have just become a disaster for the Penguins. That's five losses in a row on home ice, including all three since moving to Consol. You can feel it in the building, too. About a minute before this one ended, I tweeted, 'We've now officially reached the everyone's-waiting-for-the-next-bad-thing moment in here. All tension.' Not for long.
>> Thank you, as always, for reading.