By Dejan Kovacevic | Trib Total Media
NEW YORK — Morning, Lunatics …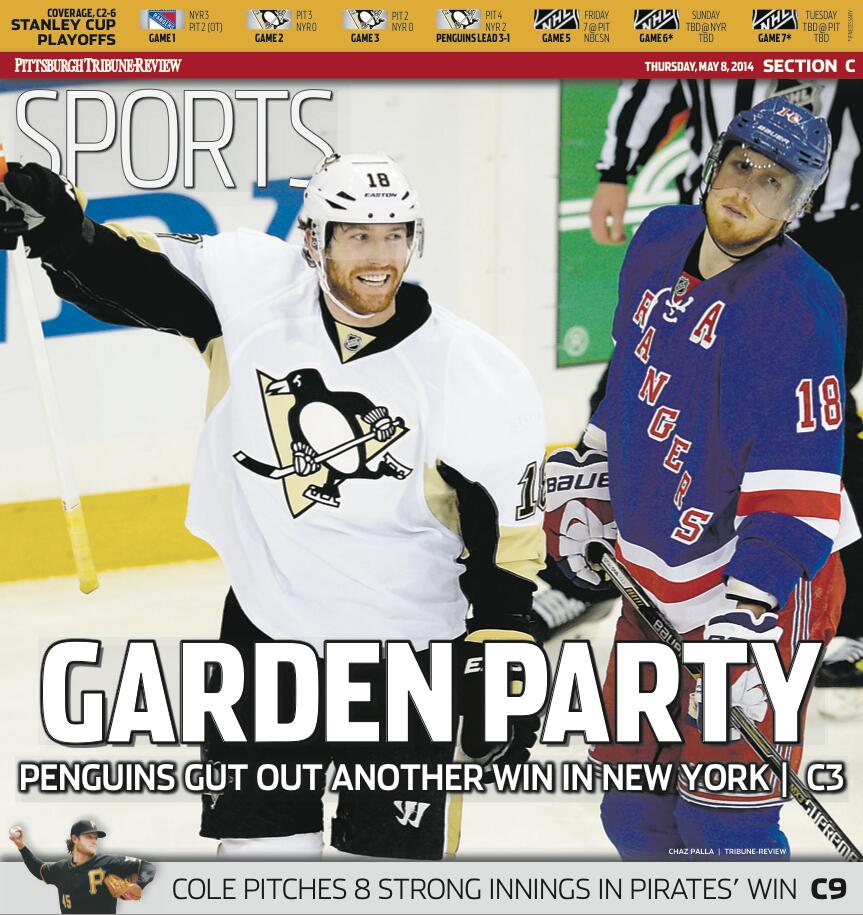 >> The Thursday column from Game 4 at the Garden eschews the norm about writing on the Pittsburgh team and just basically cheap-shots the Rangers in the back of the skull.
I'll elaborate on one thing here, while on the subject of Marc Staal, that mention in the column about the Penguins being furious with the player and with the league: I was told late last night that they forwarded to Gary Bettman's offices various Twitter content about Staal's stick assaults in Game 3 but also the Tuesday column on the topic. In one ear, out the other.
Some of you had asked if the team pushed the matter to back Sidney Crosby. The answer is an emphatic yes.
Here's some of what Paul Martin had to say afterward, which amazingly was off the ice rather than on it, where he'd just logged 30:05:
The game story, by beat man Rob Rossi.
The D-men rise up in Brooks Orpik's absence, by Josh Yohe.
The Rangers' reaction, by Denis Gorman.
News and notes, by Rossi and Yohe.
Here's TribLIVE's Penguins page, our Chipped Ice blog and our photo gallery.
Here's Rangers news from the New York Daily News.
Here's Evgeni Malkin's reverse spin-o-rama from the NHL's YouTube channel:
Blogginess from the scene: Some of the nastiest things are shouted on the concourses of the Garden after the Rangers play badly. Should have heard the place after this one. Wow. … It's just got to be stressed here: After Orpik went down, most of the Penguins' defensemen had their ice time stay at the norm, but Martin played a half-hour and was a force at both ends. He's been all that and more. … After Marc-Andre Fleury had gotten down with all the latest gee-didn't-you-used-to-be-terrible questions, one last New York reporter came by and tried another. Fleury, to his considerable credit, cut him off in mid-question and said, 'Copy and paste, you know. Just copy and paste.' Ha! … I didn't like the decision to scratch Robert Bortuzzo on a lot of levels, not least of which is that Orpik hadn't looked right all week in trying to come back. Dress seven D and play it safe. Dan Bylsma has had a very good series, but he got away with one there. … No one could like the way Orpik's knee gave out in that innocent collision with Mats Zuccarello, and one can't help but fear something bad. We'll see. … Rob Scuderi was the social media whipping boy with Bortuzzo's scratch, and not without merit. But other than a bad shift and a half, he was OK. Moot point now. He's playing. … I've been tough on Beau Bennett, so it's fair to underscore that he had a solid two-way game, even some good F3 work. … The Monster line can be maddening with how it hovers out on the perimeter, but they took what the Rangers gave them. Which was pretty much everything. … I really don't expect to be back here.
>> The Pirates, thanks to a strong-armed Gerrit Cole, took two of three from the high-flying Giants, Rob Biertempfel reports from PNC Park.
The smart early money is on Gregory Polanco and other elite prospects, by Travis Sawchik.
Couple thoughts of my own on Polanco: Try to picture the thought process of a young baseball player from the impoverished Dominican Republic, one who has yet to take his first cut in the majors, rejecting $25 million in guaranteed money. You'll at least begin to grasp Polanco's confidence. No matter what his agents or anyone else told him, that couldn't have been easy. Beyond that … really, I don't see how either side can be faulted, the Pirates for making their offer in the spring before Polanco had even begun to establish himself in Triple-A, or Polanco for believing in himself. And I'll continue to find no fault with the Pirates for keeping him in Triple-A until the Super-2 arbitration line passes. To repeat, it's just plain irresponsible to pay an estimated $15 million or more for a few weeks of anyone.
Here's TribLIVE's Pirates page, our Bucco Blog and our photo gallery.
Here's Giants news from the San Francisco Chronicle.
Here's Cardinals news from the St. Louis Post-Dispatch.
Here are official game highlights on MLB.com.
>> It's draft day!
The Steelers brace for the 15th overall pick, by beat man Alan Robinson.
The franchise and the world lost Bill Nunn, an NFL scouting legend, a pioneer for black players in professional football and a respected journalist. Obituary by Andrew Conte.
This will be the big day for mock drafts, including Mel Kiper's final, but I'm a Mike Mayock guy through and through. His only mock came out last night, and he's got the Steelers taking a corner … but not Darqueze Dennard. Kyle Fuller is coming up a lot this week.
Here's the Trib mock draft, done by Robinson, Mark Kaboly and Ralph Paulk.
Here's TribLIVE's Steelers page and our Steel Mill blog. I'll call attention again to the NFL Draft Primer published on this blog a couple days ago.
>> I'll check in with TribLIVE Radio at 11:30 a.m.
>> Driving back from New York today, but I'll be on the South Side tonight to cover the Steelers' first-round pick. Thank you, as always, for reading.