By Dejan Kovacevic | Trib Total Media
Morning, Lunatics …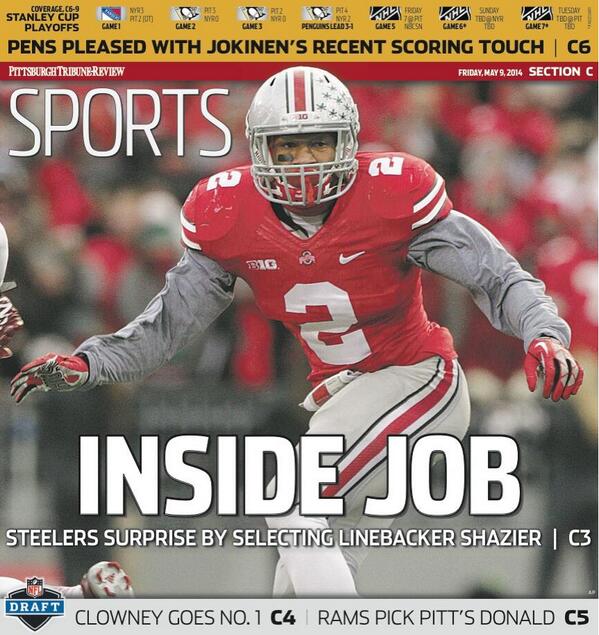 >> The Friday column from the Steelers' South Side HQ weighs Ryan Shazier as the first-round pick as well as the greater position of need that wasn't addressed.
Here's Mike Tomlin and Kevin Colbert answering my question about corner:
The news coverage, by beat man Alan Robinson.
Aaron Donald goes to the Rams, by Jerry DiPaola.
Here's the full first round on the NFL.com tracker.
Here's an AP pic of Shazier and Hugmaster General Roger Goodell in New York:
And here's a Shazier highlights video from 2013, one that makes him look like … man, I wouldn't even say he looks like a safety. Between his build and his speed, it's almost like watching a blitzing corner. Take a look:
Blogginess from the scene: We'll all be able to better size up Shazier when he meets with the Pittsburgh media today at 3 p.m., but we might not have a completely reliable account of his actual size. Even in an NFL world where 16ths of an inch are included in scouting reports, the Steelers' initial release to us in the press room had Shazier at 6-0, this despite most reports listing 6-1. Within a half-hour, the Steelers passed out another release — seriously, they re-did the entire thing just for this one digit — to change it to 6-1. … If the kid makes 143 tackles, like he did at Ohio State last season, I strongly suspect no one will care. … Tomlin and Colbert both took care to not rub Sean Spence out of the picture, insisting he's looking good in workouts. Remember, this was supposed to be Spence's spot before that awful knee injury that included nerve damage. … Tomlin's broad smile every time Shazier's speed was mentioned was telling. I'd be stunned if this wasn't his guy, but that's only a guess on my end. Tomlin walked into that room invested on letting us know how strongly he felt. … It was also easy to tell that both were prepared to be asked about corner. It's not like they don't see the same things. … ESPN was predictably nauseating with the Johnny Manziel drama, but at least it had a happy ending for the Browns. And I emphasize ending because this is usually the beginning and ending of all the warm and fuzzy for Cleveland fans. They're champs at the draft, dead last when it counts. … Know who else the Browns got at 22nd overall? Brandon Weeden and Brady Quinn. … Doug Whaley, the former Upper St. Clair and Pitt standout who's also one of the most intelligent people I've known, took quite a stand with his Bills in trading up to get Sammy Watkins. I've always said this, but if you believe in your player, go get him. Now, Buffalo's got a target for E.J. Manuel. … In all honesty, I'm more interested in Day 2 of this draft than Day 1 from the Steelers' standpoint. This is a team with many holes. One's been addressed, but not the biggest.
Here's TribLIVE's Steelers page and our Steel Mill blog. I'll call attention again to the NFL Draft Primer published on this blog a couple days ago.
>> Jussi Jokinen is the new Cris Carter, continuing with today's NFL theme. In other words, all he does is catch touchdowns. Josh Yohe reports in advance of tonight's Game 5.
The Penguins are establishing their identity, per Rob Rossi.
Here's TribLIVE's Penguins page, our Chipped Ice blog and our photo gallery.
Here's Rangers news from the New York Daily News, including the sad word of the unexpected passing of Marty St. Louis' mother.
Here are highlights from the NHL's YouTube channel.
>> What's up with the Pirates' bullpen? Travis Sawchik analyzes in advance of this weekend's series at PNC Park with — seriously, them again? — the Cardinals.
Here's TribLIVE's Pirates page, our Bucco Blog and our photo gallery.
Here's Cardinals news from the St. Louis Post-Dispatch.
Here are official game highlights on MLB.com.
>> The Riverhounds take on MLS-bound Orlando City tonight at Highmark, and I dare say that being winless through five would feel like a faded memory with a positive outcome in this one. Beat man Matt Grubba will cover.
>> I'll check in with TribLIVE Radio at 11:30 a.m.
>> I'll be covering Game 5 tonight. Thank you, as always, for reading.