By Dejan Kovacevic | Trib Total Media
NEW YORK — Morning, Lunatics …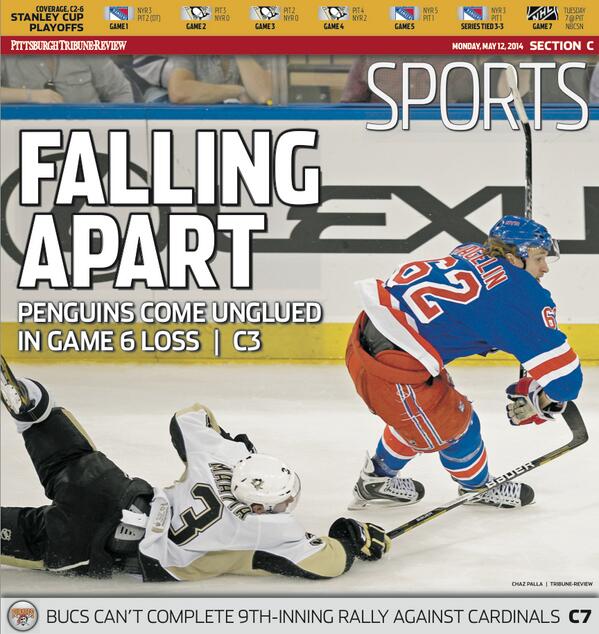 >> The Monday column from Game 6 really tiptoes around what Game 7 could mean for Pittsburgh's hockey club.
The game story, by beat man Rob Rossi, attempts to locate the captain.
Where there's a will, the Rangers are finding a way, by Josh Yohe.
Henrik Lundqvist stands tallest, by Denis Gorman.
News and notes, by Yohe.
Here's Marcel Goc celebrating a goal he didn't score, from the NHL's YouTube channel:
Blogginess from the scene: In addition to having another rotten game, Sidney Crosby didn't exactly acquit himself well in terms of behavior. Here's video of a spear to Dominic Moore's bad area. That's lousy. And it's a shame, independently, that the NHL has reduced this act to almost nothing in terms of punishment. Like I wrote the other day in relation to Milan Lucic, everyone knows they can do it. … As for the game itself, there just really, truly isn't much to add from the column. I could parse over line changes, matchups, who might play, who might not, and none of it matters in the slightest if the team plays without passion. … It was intelligent to have Matt Niskanen back on the top power play. There. … It also was nuts that he was ever not on it. … Hang on, let me see if I can think of something else before we hit the road here. … (long pause) … Nope. That's it.
Here's TribLIVE's Penguins page, our Chipped Ice blog and our photo gallery.
Here's Rangers news from the New York Daily News.
>> The Pirates had a pretty painful loss of their own. Rob Biertempfel reports from PNC Park. That Chris Horner pic up there is of Yadi Molina starting a game-ending double play for St. Louis after the Pirates had the bases loaded with nobody out, down a run.
Don Draper was there, too, by Bob Cohn.
Here's TribLIVE's Pirates page, our Bucco Blog and our photo gallery.
Here's Cardinals news from the St. Louis Post-Dispatch.
Here are official game highlights on MLB.com.
>> The Steelers' draft came with a surprising element in that they waited until the fifth round to address their most glaring need at cornerback, but the rest shaped up as no surprise at all. And no, not just because the Trib's football writers, Alan Robinson and Mark Kaboly, amazingly predicted five of the nine picks in Thursday morning's mock draft.
In a way, Mike Tomlin and Kevin Colbert went all raw in addressing what the Steelers were missing most: Being the Steelers.
More than anything in these back-to-back 8-8 seasons, what they lacked was the physical capability to make plays on defense. Meaning speed, size and strength. To me, the defining moment of the season came in London when Adrian Peterson just destroyed pretty much all 11 guys on the field with that 60-yard touchdown run.
In case you've forgotten …
It was humiliation on an international stage. It was 0-4. It was one man beating a franchise through speed and brute strength. It was as low a moment as anyone could picture for the Steelers in the Tomlin era.
So in that sense alone, no, it shouldn't surprise that Ryan Shazier was taken first to fill inside linebacker, that exact spot that Peterson and others exploited all last fall against overmatched Vince Williams and out-of-position Troy Polamalu. It shouldn't surprise that Dri Archer was added as the fastest player in the draft for an extra burst to the offense that, really, had only Antonio Brown providing that. It shouldn't surprise that Stephon Tuitt was added at defensive end to seal the outside running lanes that an older Brett Keisel had been leaving open. And it most definitely shouldn't surprise that mammoth Daniel McCullers — 6-7, 350 — was added as a longer-term project at nose tackle. Casey Hampton was missed last season so much more than anyone wanted to admit, plugging that middle.
Warren Sapp called the Steelers 'old, slow and done' a couple years ago, and Pittsburgh understandably snapped back. He was right then. He won't be anymore.
That's not to suggest this is a perfect draft. I'll repeat that I'd have loved to see corner addressed by something much more than a fifth-rounder, Shaquille Richardson, with some serious red flags. That was irresponsible and, to an extent, delusional about what's currently in house. I also wouldn't have minded seeing greater priority put on getting Ben Roethlisberger another weapon than fourth-round receiver Martavis Bryant.
But overall, I can't quibble with the mindset that clearly went into this draft, nor its execution in that regard.
Looking beyond the draft this morning is beat man Alan Robinson.
Five reasons to love or loathe this class, by Robinson.
A report card, by Mark Kaboly.
Terry Hanratty, one of a kind, a column by Joe Starkey.
And it you missed it, my Friday column looked at Shazier and the urgency to get it right.
Here's TribLIVE's Steelers page and our Steel Mill blog.
Here's the official NFL Draft Tracker, set to the Steelers tab for you. All of their picks are there at a glance, with tons of accompanying info and video.
>> Here's how to subscribe to the various versions of the Trib, including the e-Trib edition.
>> I'll check in with Ken Laird on TribLIVE Radio at 11:30 a.m. on yet another Turnpike ride.
>> Thank you, as always, for reading.