By Dejan Kovacevic | Trib Total Media
Morning, Lunatics …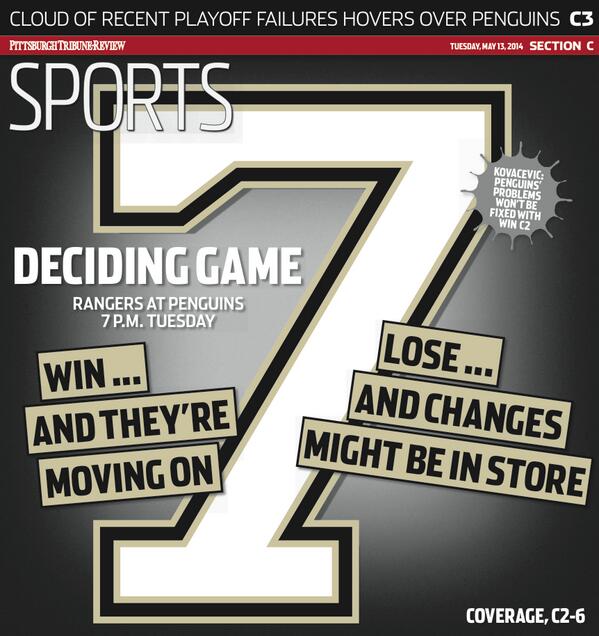 >> The Tuesday column wonders what, if anything, will change for the Penguins with a Game 7 victory tonight. Other than the obvious, of course.
The Game 7 history of the Penguins is no point of pride, by beat men Rob Rossi and Josh Yohe.
Here's a breakdown of that history.
Sidney Crosby and Evgeni Malkin strikingly showed up at the podium yesterday afternoon — Crosby hates podiums, and Malkin just hates media sessions of any kind — and tried to give off a jovial feel. Jason Mackey was at Consol.
Here's some of that session:
Rob Scuderi talks trust, by Yohe.
Deadline pickups Marcel Goc and Lee Stempniak hope to leave a mark, by Chris Adamski.
The Rangers have their own Game 7 history. Denis Gorman guarantees it.
Henrik Lundqvist squirts his way to a fine, by Yohe.
And in the other bracket, the Canadiens force a Game 7, by the Montreal Gazette.
Here's Habs-Bs highlights from the NHL's YouTube channel:
Here's TribLIVE's Penguins page, our Chipped Ice blog and our photo gallery.
Here's Rangers news from the New York Daily News.
>> Gerrit Cole could take another step toward ace status tonight in Milwaukee. Kevin Gorman reports. Quality line from Neal Huntington in this piece: 'There are some guys in this league when they get sent out there, you expect to win. Gerrit certainly has that potential.'
Here's what WPXI-TV's Subway Final Word panel had to say about the series:
Here's TribLIVE's Pirates page, our Bucco Blog and our photo gallery.
Here's Brewers news from the Milwaukee Journal-Sentinel. Carlos Gomez and Aramis Ramirez are out, but Ryan Braun is coming back.
Here are official game highlights on MLB.com.
>> Kevin Colbert went one-on-one with our Mark Kaboly on his TribLIVE Radio show yesterday. Some good stuff about the Steelers' draft in here.
Here's TribLIVE's Steelers page and our Steel Mill blog.
>> Here's how to subscribe to the various versions of the Trib, including the e-Trib edition.
>> Our weekly chat will come at 1 p.m. right here on the blog. Once you see the post go up, which should be around 11 a.m., feel free to submit entries. All topics welcome.
>> You know where I'll be tonight. Thank you, as always, for reading.