By Dejan Kovacevic | Trib Total Media
Morning, Lunatics …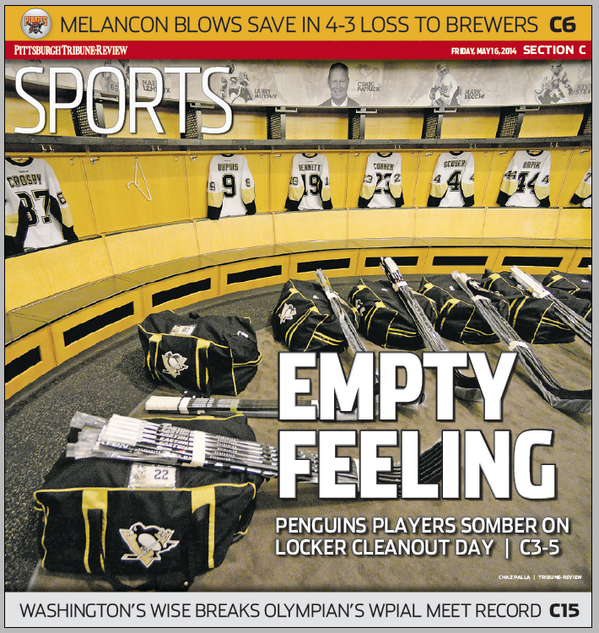 >> It would be beyond surprising if the Penguins don't make their major move or moves today, based on all I've gathered. I'll repeat from that special blog entry here yesterday that Dan Bylsma's as good as gone, and that Ray Shero also is in serious trouble.
If/when something happens, regardless of day, I'll have a column for the Trib that I can already promise you will include original background and other information.
Latest on that front, by beat man Rob Rossi.
The players offer farewells, some no doubt for good, by Josh Yohe.
Looking at free agents and beyond, by Chris Adamski.
Beau Bennett needs another surgery, by Jason Mackey.
The beat men wrap it up:
The Penguins' captain does likewise:
Here's TribLIVE's Penguins page and our Chipped Ice blog.
One last Game 7 remains in this round, that in the Southern California clash that, in all candor, has been such a wonderful series it's a crime it's happened this soon in the playoffs. The Los Angeles Times reports.
Here are official game highlights on NHL.com.
>> Oh, House of Horrors. No, you didn't. Travis Sawchik reports from Milwaukee on yet another in the seemingly endless string of terrible tales from Miller Park.
On the bright side — and I'm being serious here — before Mark Melancon's blowup, the Pirates got a highly encouraging rehab return from Wandy Rodriguez, two sizzling innings from Justin Wilson and more of the usual from Tony Watson. There was a lot of good pitching in there, which counts more than anything toward the long haul, possibly even a couple options for closer should Melancon and Jason Grilli continue their mutual regressions from 2013. Even if all this game meant was Wandy getting back on track, it will have meant more than the final score.
Still, that's a tough, tough loss. If only because a fourth consecutive series victory would have carried legit momentum into Yankee Stadium while at the same time stunting the Brewers a bit. Everything flipped, just like that.
Bob Nutting will help choose Bud Selig's successor, by Sawchik.
Here's TribLIVE's Pirates page, our Bucco Blog and our photo gallery.
Here's Brewers news from the Milwaukee Journal-Sentinel.
Here's Yankees news from the New York Post.
Here are official game highlights on MLB.com.
>> The Steelers open rookie camp today on the South Side, as Alan Robinson previews. I'll be there over the weekend, as well, and write a column for Monday. And not going to lie: I wasn't wild about the Dri Archer pick, but I am sure am looking forward to getting a look. Those guys can stand out in such settings.
One to bookmark: Here are all of the Steelers' offseason training dates.
How might Michael Sam have been treated in the old NFL? Robinson asks.
>> I'll check in with TribLIVE Radio at 11:30 a.m.
>> Thank you, as always, for reading.