By Dejan Kovacevic | Trib Total Media
Morning, Lunatics …
>> The weekly chat will be today at 1 p.m., right here on this blog. The post should go up two hours beforehand, at which point entries can be submitted.
>> The Riverhounds fired Justin Evans after four-plus seasons as coach and a disastrous 0-4-3 start in this one. Beat man Matt Grubba reports.
I've got a bit to say here, and it doesn't all have to do with this decision.
It's vital in any sports organization to know who does what. Otherwise, accountability gets muddied. Who does the drafting? Who develops? Who teaches? Who motivates? Who counts the cash? The clearer those lines, the easier it is to tell what goes well and what goes poorly.
So when we ask Mike Tomlin and Kevin Colbert who's responsible for the draft and both will answer with the standard 'I take full responsibility,' neither the public nor — and this is infinitely more important — the team itself can know how to apply credit/blame. It's messy. It's unkempt. And when things don't go well, in particular, answers are hard to find.
The 2014 Riverhounds are terrible. They're 0-4-3, and in that span they've gone from bad on the back line to miserable in the midfield to now one-dimensional up front. Meaning Matt Dallman's services account from pretty much all the offense anymore. They're a bore. They lack ambition, they lack creativity, they lack direction. Worst, in my view, they lack any semblance of passion, in large part because management decided to stuff the roster with a bunch of mercenary types up front. About half the roster seems like it couldn't care less, a stark contrast to the joy and passion we saw most of last summer, the first one for the franchise right Downtown. They came with high price tags but apparently low levels of pride. They can't leave the team soon enough. All of them. And the same goes for these loaners from Houston of MLS, this being the first year of that arrangement. They don't want to be here, either.
But as the saying goes, you can't get rid of all the players, so you get rid of the coach, in this case an intensely competitive, intelligent and experienced soccer man in Evans. He's local, too, from Peters Township. He was an original Riverhound as a player, and his heart was in this.
So, what went wrong?
The correct answer is this: Nobody can know. Because we don't really know who picked the players.
I had a long talk last night with CEO Jason Kutney, and he explained that some players were procured by him, some by Evans, some by others, and it was just this general mish-mash. All had input, including Evans. The owner, Tuffy Shallenberger, authorized the spending. (Before Chapter 11 bankruptcy, it should be noted.) 'We're a small organization here,' Kutney correctly noted in our talk. And he's right. That's fair. Not every franchise can afford to break it down into super-specialties.
But there's no outfit so small — or large — that it can't have a clear separation between a GM and coach. That's got to be in place, whether it's our local football or futbol teams. Work together, sure. Plan together on a type of team or type of preferred athlete, sure. But just mashing up some hodgepodge of players, then rolling them out for the coach to build something in a month or two … that wasn't going to work.
The Riverhounds are in a lousy spot. They drew very well last summer, introduced a lot of local fans to the world's game. And to their credit, they aimed very high to build on that by competing for a USL championship this time. That it's gone this badly is a shame on more levels than one.
That no one can say why is all the more a shame, because this won't exactly foster confidence in the franchise moving forward.
Here's TribLIVE's Riverhounds page.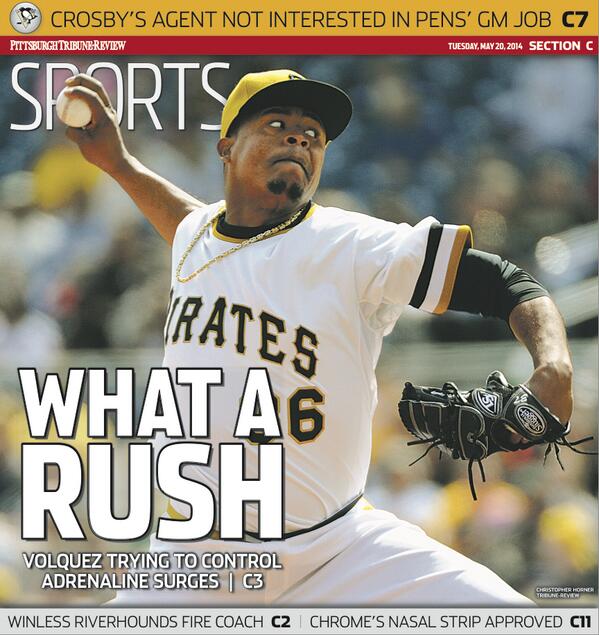 >> The Pirates are back home, and Edinson Volquez hopes to get back on the right foot. Travis Sawchik reports.
I'll be writing a bunch of baseball myself later in the week. A bit overdue, what with the Penguins in the playoffs and the Pirates having been on the road a lot.
Here's TribLIVE's Pirates page, our Bucco Blog and our photo gallery.
Here's Orioles news from the Baltimore Sun.
Here are official game highlights on MLB.com.
>> The Steelers seal a deal to privately finance the expansion of Heinz Field. Tom Fontaine reports.
Two draft picks sign quickly, by Alan Robinson.
Here's TribLIVE's Steelers page and our Steel Mill blog.
Here's our Subway Final Word panel Sunday night on WPXI-TV debating Tomlin's status in 2014:
>> Pat Brisson, who's Sidney Crosby's agent, takes his name out of the running for the Penguins' GM vacancy, by Rob Rossi.
And that, of course, is assuming anyone really believed he was in the running. At the risk of ruffling feathers here, the national writers on any beat need agents the way babies need milk. The national hockey writers had everything to gain by stroking Brisson's ego and allowing him to engage in this fantasy for a few days. It was stupid all along.
Here's TribLIVE's Penguins page and our Chipped Ice blog.
Here are official game highlights on NHL.com, including the suddenly-steamrolling Rangers taking Game 2 in Montreal.
>> Please see a special message on my Facebook page about the ongoing crushing floods in Serbia, Bosnia and part of Croatia.
>> Hope to have you in the chat today. And thank you, as always, for reading.