By Dejan Kovacevic | Trib Total Media
Morning, Lunatics …
>> The Monday column covers football. And I mean actual football. As in what impact Ryan Shazier – at center in the pic above – and Stephon Tuitt will have immediately on the defense as a whole, as in Xs and Os, as in personnel, even a Tomlin-ism or two from the Steelers' rookie camp over the weekend. As a result, we're going to go heavy with the topic this morning.
Here's a blog-exclusive talk with Shazier, the first-round pick:
As well as the question and answer with the head coach that's described in the column:
There's no waiting on the rookies this time, by Alan Robinson.
Dri Archer might get a shot, too, by Robinson.
Every camp has at least one surprise, by Robinson.
A breakdown of the Steelers' history with defensive rookies, by Mark Kaboly.
Blogginess from the scene: As the column's lede stresses — and you can see it up there on the fine Page 2 design this morning by our Brent Wasko — there's next to nothing to be culled from the drills at a rookie camp. But next to nothing still leaves something, right? Archer is amazingly fast. Has to be seen to be believed. And he's not as slight as I'd imagined for someone 5-7. Seems to have a stocky enough build to be able to handle … well, more than one NFL hit. We'll see. These types always look best in the no-contact drills. … It's strange watching Shazier move, if only because he's got a) Larry Foote's old number (sorry) and b) because he really does have a legit inside linebacker's frame that makes you do a double-take once you see him get around the field. Especially laterally. Exceptional quickness for the position. That's not everything, obviously. We'll see if he's got Lawrence Timmons' explosiveness — not many do — or the strength and endurance to make plays with his upper body in fourth quarters, given that he isn't as wide in the shoulders as Timmons. But this was neat in and of itself. … One player a lot of folks were talking about was, of all positions, quarterback Brendon Kay, a free agent. Throws a tight spiral, threads the needle and … can't get much going downfield. Saw him badly underthrow an open receiver down the left sideline. Twisted the poor guy into a pretzel. … I'll remind: It's rookie camp. Quick observations. … What's downright stupid — and Tomlin appeared to agree — was watching in action the NFL's silly prohibition on first-year players like Landry Jones from participating. Jones never took a snap in a game last season. Actually, he was never even active. Both the team and the player had everything to gain from his participation. "I'm always in favor of offseason work," came Tomlin's diplomatic answer to a question on that topic. … Hearing lots of good things about Mike Munchak's potential impact on offensive linemen. Don't underestimate that. … Tomlin wants no part of pushing Troy Polamalu to attend OTAs, even though he's pushed Polamalu hard behind the scenes in recent years. "It's voluntary," Tomlin said. Yeah, it is, but Polamalu has to break in a new safety this year in Mike Mitchell. It won't feel voluntary this year. … This year's OTA's begin May 27, just eight days away.
Here's TribLIVE's Steelers page and our Steel Mill blog.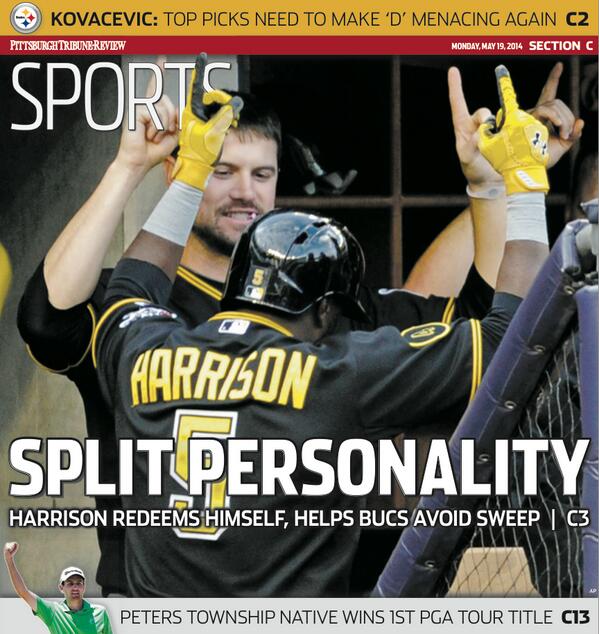 >> The Pirates split at Yankee Stadium. Travis Sawchik reports from the Bronx.
A Dominican family within the organization, by Rob Biertempfel.
Don't forget about Josh Bell as a hitting prospect, by John Lembo in Bradenton.
Here's TribLIVE's Pirates page, our Bucco Blog and our photo gallery.
Here's Yankees news from the New York Post.
Here's Orioles news from the Baltimore Sun.
Here are official game highlights on MLB.com.
>> Derrick Pouliot, the Penguins' No. 1 prospect, has a significant shoulder injury, by Rob Rossi. That stinks for any hockey player. It's especially tough on defensemen.
The challenges facing the new GM, by Rossi.
Here's TribLIVE's Penguins page and our Chipped Ice blog.
Here are official game highlights on NHL.com.
>> The Riverhounds aren't very good. In fact, they're the only USL Pro team without a win to this point, through seven games. They're flat-out bad. Beat man Matt Grubba sums up the latest loss from Highmark Stadium.
I'll add here that Justin Evans needs to come up with answers soon. Not because this is his fault. I don't believe it is. But I do believe that he'll have to show the initiative to sit some of these lifeless mercenaries brought in during the offseason. Last year's team had heart. This one's got a quarter of the roster cashing paychecks, another quarter wishing they were in Houston.
It's going to be Evans or those guys before long. I vote Evans.
>> In case you missed it, here's last night's Subway Final Word on WPXI-TV. I was joined by Rossi, Mark Madden and Alby Oxenreiter. Lots of pucks, a bit of Steelers.
>> I'll check in with the WDVE Morning Show at 9:15 a.m.
>> I'll visit Ken Laird and Guy Junker in the TribLIVE Radio studio at 11:30 a.m.
>> Thank you, as always, for reading.