By Dejan Kovacevic | Trib Total Media
Morning, Lunatics …
>> The weekly chat will begin at 1 p.m., and it'll be live from the Steelers' headquarters on the South Side. OTAs begin this morning, and there surely will be much to share from over there.
Let the offseason evaluations commence, by beat man Alan Robinson.
Here's TribLIVE's Steelers page, our Steel Mill blog and our photo gallery.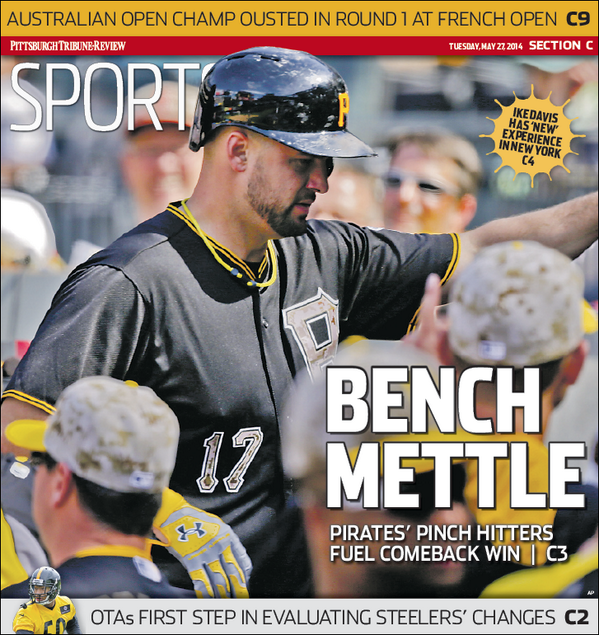 >> Gaby Sanchez and Jose Tabata notch one for the Pirates' bench, by Travis Sawchik in New York.
Ike Davis takes center stage, by Sawchik.
If you missed Subway Final Word on WPXI-TV on Sunday — and we'd love to have you every week — this was WXDX-FM host Mark Madden and I getting rather spirited on the topic of Gregory Polanco:
Here's TribLIVE's Pirates page, our Bucco Blog and our photo gallery.
Here's Mets news from my friend Adam Rubin at ESPN New York, and you will want to check this today. Amazin' stuff about releasing Jose Valverde, firing the hitting coach and the hitting coach blaming the fans. Only in New York, as they say.
Here are official game highlights on MLB.com.
>> Latest on the Penguins' GM search. Rob Rossi reports.
Here's TribLIVE's Penguins page and our Chipped Ice blog.
Here are official game highlights on NHL.com. And if you aren't watching the Kings right now, you're missing on some of the most complete hockey you'll ever see from one team. They aren't just Anze Kopitar, Marian Gaborik, Drew Doughty and Jonathan Quick. They're big, strong, tough, smart … you name it.
How much of that is Darryl Sutter?
I asked that very question last night of Rick Tocchet, one of the toughest men in the Penguins' history and a former head coach of the Lightning, how much starts with the coach: 'It definitely helps. It starts in training camp. It's hard to play the right way every game, but if you're conditioning your mind from the start so when April comes around, you're mentally tough as a team . You can't just turn it on and off when you want.'
Yes, he's available.
>> I'll check in with TribLIVE Radio at 11:30 from the Steelers' HQ.
>> Hope to hear from you in the chat! And thank you, as always, for reading.