By Dejan Kovacevic | Trib Total Media
Morning, Lunatics …
>> The TribLIVE Radio show today — 2-3 p.m. — will open with your calls, and the topics, as always, are up to you. My mind is on the Steelers this week with the opening of OTAs, but there's plenty enough going on with the baseball and hockey teams, as well.
So do it. Call me at 412-320-7925.
Feel free to email sportstalk@tribweb.com if you can't call. But I'd really rather hear from you.
At 2:30, I'll be joined by Alan Robinson, the Trib's Steelers beat writer, to discuss his two exclusives in our paper today.
And at 2:45, we'll have more wit and wisdom, albeit a bit more emotional than usual, from our @SuckMeter.
To listen, just click the link up top. If you're mobile, try the iPhone version or the Android version of the TribLIVE Radio app. Both are free and insultingly easy to use.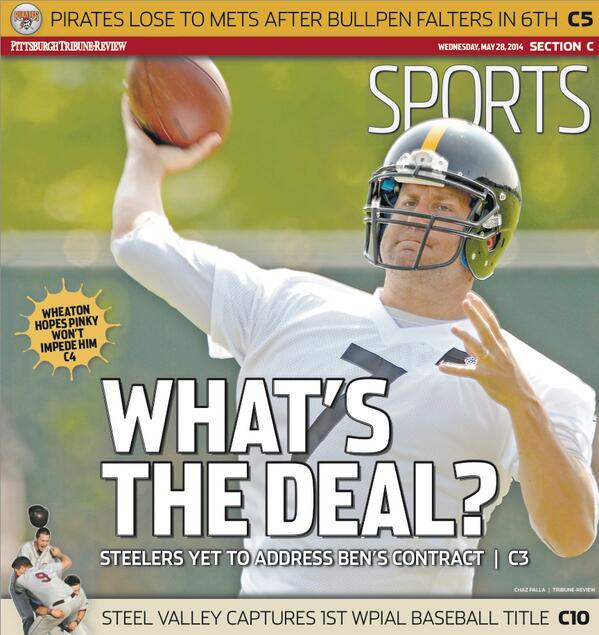 >> Ben Roethlisberger isn't losing fingernails over his contract, by Robinson. At least not yet.
Ben also addressed several other topics, as you'll read, including the makeup of the offense and, after being asked by one annoying guy, how the running game will be affected by a year-older Le'Veon Bell and LeGarrette Blount:
Markus Wheaton's messed-up-finger situation is more messed up than we knew, by Robinson.
Jason Worilds and Jarvis Jones are the new bookends on the 3-4, but how ready are they? Columnist Joe Starkey asks.
The weekly chat represented my coverage of the first day of OTAs. No shortage of football stuff in there, plus some Pirates and Penguins.
Here's TribLIVE's Steelers page, our Steel Mill blog and our photo gallery.
>> The bullpen hiccups for the Pirates, by Travis Sawchik in New York.
Jason Grilli closes in on being closer again, by Sawchik.
Here's TribLIVE's Pirates page, our Bucco Blog and our photo gallery.
Here's Mets news from ESPN New York.
Here are official game highlights on MLB.com.
>> Latest on the Penguins' GM search. Rob Rossi reports.
Here's our Subway Final Word panel on James Neal's future:
Here's TribLIVE's Penguins page and our Chipped Ice blog.
Here are official game highlights on NHL.com.
>> Thank you, as always, for reading.