By Dejan Kovacevic | Trib Total Media
Morning, Lunatics …
>> The Monday column takes a topical theme and weighs the merits of drafting the hometown kid. And yes, the column was written before Brandon Saad scored another brilliant goal last night for the Blackhawks:
So, is it really as meaningless as sports execs tend to claim?
Let me hear from you on this one. It's anything but a clear-cut issue, at least from this viewpoint.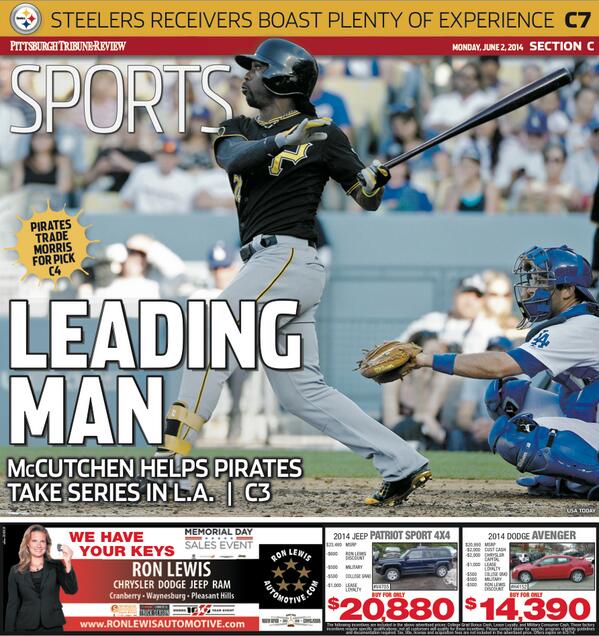 >> Andrew McCutchen and the Pirates played more terrific ball last night at Dodger Stadium. Rob Biertempfel reports from Los Angeles.
Bryan Morris was dealt for a comp pick, by Biertempfel.
Gregory Polanco builds to a crescendo. Travis Sawchik reports from Indianapolis, and I recommend it highly. It's about actual baseball, a rarity when discussing this extraordinary young man.
To wit, here from last night's Subway Final Word on WPXI-TV are Mark Madden and I discussing — not of my choice, mind you — the standard fare:
Here's TribLIVE's Pirates page, our Bucco Blog and our photo gallery.
Here's Dodgers news from the Los Angeles Times.
Here's Padres news from the San Diego Union-Tribune.
Here are official game highlights on MLB.com.
>> And the Cup final is set: Kings vs. Rangers. The Los Angeles Times has tons on this topic, too.
Not sure how many words are needed, anyway, when one will do: Classic. This Game 7 capped as good a series as the NHL has seen — any teams, any round — in a long, long time. And unlike so many other great series that somehow end up with anticlimactic duds, this one was perfect. It had it all. It had the incredible crowd in Chicago. It had the home team staking a quick two-goal lead, followed soon by the first and second and third examples of both teams' resiliency. And as you can see above, it had a hardscrabble goal with Alec Martinez's point shot ricocheting through traffic in overtime.
Here it is in motion:
It's a genuine shame this wasn't the Cup final. Really is.
Here's TribLIVE's Penguins page and our Chipped Ice blog.
Here are official game highlights on NHL.com.
>> A look at Darrius Heyward-Bey, the Steelers' wild-card receiver, by Mark Kaboly.
A return to the rush? More from Kaboly.
Here's TribLIVE's Steelers page, our Steel Mill blog and our photo gallery.
>> Another rotten result for the Riverhounds, this a 1-1 tie with Harrisburg on a late brown coverage. Matt Grubba reports from Highmark.
I was over at the match, as well, so …
Blogginess from the scene: This is just a bad team. That's not to say the Hounds can't turn it around to some extent. Insanely, they're only eight points out of the eighth and final playoff spot in USL Pro. But that doesn't change that, right now, they're bad. You can see some connectivity in spurts, but both forwards are flat — Collins John floats, and reigning league MVP Jose Angulo looks fatigued — plus the midfield flanks are awful, even at rudimentary elements such as controlling the long ball, and there remains barely a trace of trying to move through the midfield. … Add to this a decidedly blah Harrisburg side that had just played the previous night, then bused here, and you've got a better idea of how lousy it was to concede an 85th-minute goal to Jimmy McLaughlin essentially waltzing to the top of the box. … I wrote when Justin Evans was fired that it wasn't the coach. It was the paycheck-collecting mercenaries. Still waiting to see that proven wrong. Anthony Obodai, one of those hired guns, had three options on one sequence at the left midfield in Harrisburg territory and turned and lazily fired the ball all the way back to his goalkeeper. Yeah, let someone else deal with it. … There aren't easy answers for this. The front office needs to step up its coaching search and cut interim man Niko Katic a break. From there, it needs to tell about half this roster to pack the bags. They're hurting the franchise. … It's still a really nice place to go. I snapped that shot up there during the Anthem.
>> I'll join TribLIVE Radio at 11:30 a.m. today.
>> Thank you, as always, for reading.