By Dejan Kovacevic | Trib Total Media
Morning, Lunatics …
>> The Friday column pans the Penguins' increasingly circus-like GM search, particularly Pierre McGuire, who … I still can't believe this is happening. Really can't. These are smart men with good intentions.
Latest news on the GM search, by beat man Rob Rossi.
Here's TribLIVE's Penguins page and our Chipped Ice blog.
Here are official Stanley Cup final highlights on NHL.com.
>> The Pirates open one really large series tonight against the Crew. But honestly, I wouldn't look at it so much from the head-to-head — Milwaukee's 6.5 up — as from the simple standpoint of continuing to take series. Remember, there hasn't been a sweep yet. All these gains since the end of April have come the hard way.
Cole Tucker, a scholastic shortstop, is the Pirates' top draft pick. Karen Price reports.
Pretty cool vid on a day in Tucker's life here:
Remember Jim Rooker's famous walk home from Philly 25 years ago? Bob Cohn retraces the steps.
Here's TribLIVE's Pirates page, our Bucco Blog and our photo gallery.
Here's Brewers news from the Milwaukee Journal-Sentinel.
Here are official game highlights on MLB.com.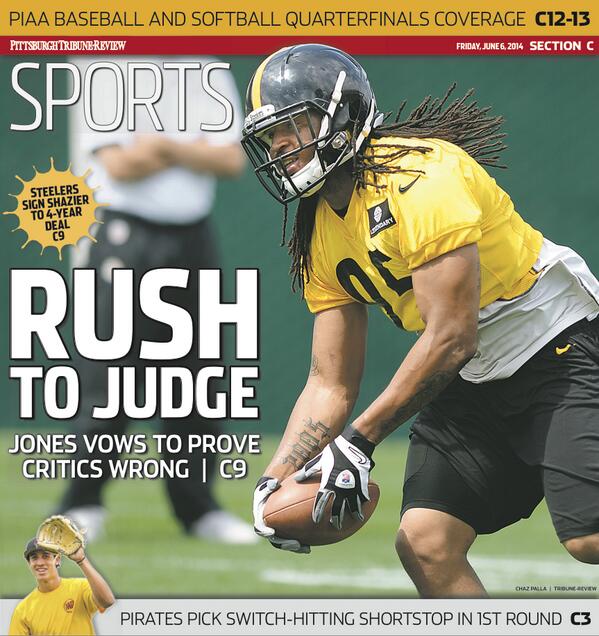 >> Jarvis Jones has work to do. Alan Robinson reports from Day 6 of the Steelers' OTAs.
Ryan Shazier signs, by Robinson. Remember when first-rounders signing was a big deal?
Cam Heyward's new role, by Mark Kaboly.
>> Jamie Dixon touches some hearts in a Downtown speech, by Jerry DiPaola. Enjoyed the imagery invoked here.
>> I'll check in with TribLIVE Radio at 11:30 a.m., then make a stop over at the ballpark.
>> Thank you, as always, for reading.