By Dejan Kovacevic | Trib Total Media
Morning, Lunatics …
>> The TribLIVE Radio show today — 2-3 p.m. — will open with your calls, and the topics, as always, are up to you. Call me at 412-320-7925. Feel free to email sportstalk@tribweb.com if you can't call. But I'd rather hear from you.
At 2:30, I'll be joined by Rob Rossi, the Trib's NHL beat writer, to talk about the Stanley Cup final that could conclude tonight.
And at 2:45, we'll have more wit and wisdom — live and in person! — from our @SuckMeter.
To listen, just click the link up top. If you're mobile, try the iPhone version or the Android version of the TribLIVE Radio app. Both are free and insultingly easy to use.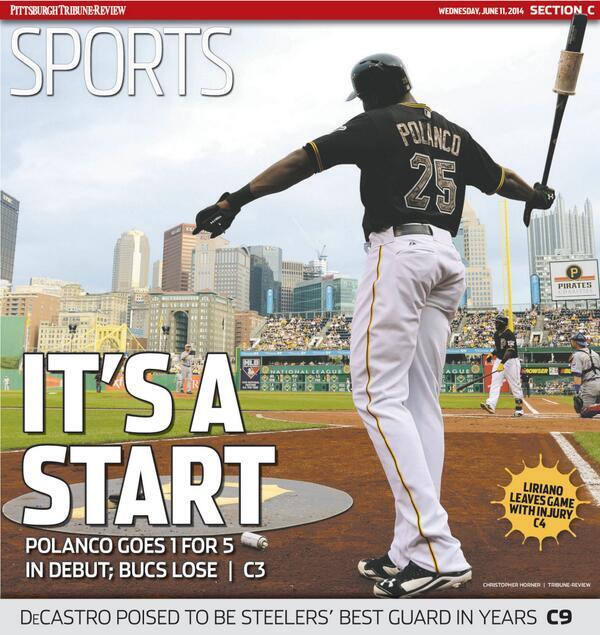 >> The Wednesday column is about Gregory Polanco.
A 1-for-5 debut. Travis Sawchik has the game story, and right here below is a bit of reaction from the young man to his first major-league hit. Think you'll like this.
Setting the scene is Karen Price.
What about Neil Walker? Sawchik updates.
Here's TribLIVE's Pirates page, our Bucco Blog and our photo gallery.
Here's Cubs news from the Chicago Tribune.
Here are official game highlights on MLB.com.
Blogginess from the scene: Francisco Liriano's strained oblique didn't sound like the kind that would heal in time to avoid a DL stint. That would put Liriano and Gerrit Cole out, with the Pirates still not having made an outside move to address starting pitching. That's got to change right away. … Jeanmar Gomez hasn't looked like part of the solution in a long, long time. … Jordy Mercer told me he credits going the other way in San Diego with his emergence from the eternal slump. Expect to see a lot more of that from him. … Is anybody unluckier of late than Gaby Sanchez? He was screaming the ball left and right last night, right into gloves. Both he and his teammates single him out in that regard more than anyone, though I'll confess to supporting that only with the eyes. Haven't seen his line-drive stats. … This turned out to be a blah loss to a blah opponent, but that moment where Andrew McCutchen followed Polanco with a two-run shot probably shouldn't fade nearly as quickly. Imagine how many times you might see that. … Looking for another bright spot? Two more scoreless frames pushed Jared Hughes' ERA below 2 to 1.96. I know, I know, reliever ERA means nothing, but he's also got a fine 1.17 WHIP and an exceptional 3.23 groundball/flyball rate. … Attendance was 31,567, about 6,000 and change shy of a sellout. There had been 25,000 tickets sold beforehand — 10,000 of which were complimentary to military families — which means roughly 6,000 game-day tickets were sold. That's 2,000 fewer than were sold for Cole's debut, also on a weekday.
>> Matt Niskanen is willing to wait on the Penguins' new coach, by Josh Yohe.
Here's TribLIVE's Penguins page and our Chipped Ice blog.
Here are official Stanley Cup final highlights on NHL.com, including all the info you'd need on what could be the last night of hockey season.
>> Be on guard for David DeCastro to break out, by Alan Robinson reporting from the OTAs' one day at Heinz Field yesterday. Done to make an impression on all involved, tunnel and all.
Jason Worilds bides his time on the big contract, by Mark Kaboly.
The full training camp schedule is released.
Here's TribLIVE's Steelers page and our Steel Mill blog.
>> Hope to hear from you on the show. Thank you, as always, for reading.