By Dejan Kovacevic | Trib Total Media
Morning, Lunatics …
>> The Tuesday chat begins at 1 p.m., right here on the blog, but you can begin submitting entries as soon as you see the post. It usually goes up around 11 a.m. All topics welcome.



>> And the U.S. is off and running. Or off and limping and dragging and reaching for the water bottles, as was painfully evident in this otherwise wonderful result vs. Ghana. I have more on that in the video above.
While below, we have, of course, John Brooks' winning header:
Here's the official World Cup 2014 page and the U.S. Soccer page.
And here's the cover of our sports section this morning, led by the same story I'm sure pretty much every major sports section in America chose: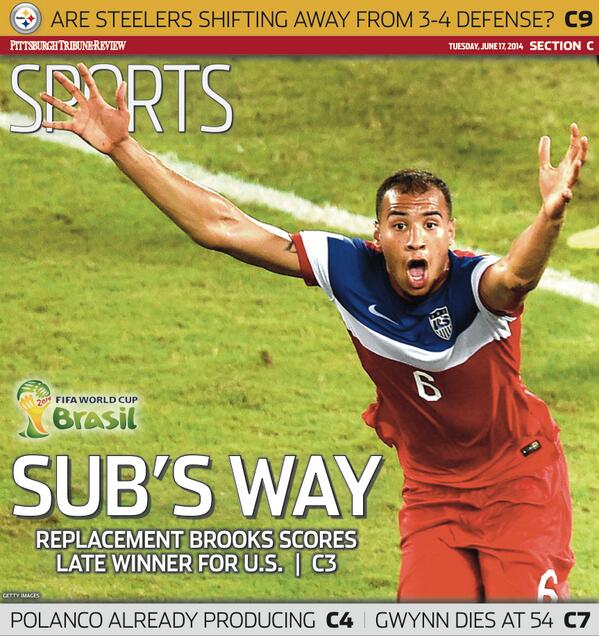 Chuck Noll was 'the greatest coach of all time,' per Ben Roethlisberger, by beat man Alan Robinson.
Mr. Noll's funeral arrangements.
Ben expects Latrobe will be all about learning, by Robinson.
Could the Steelers soon dump the 3-4? Robinson examines.
Receiver to watch in the three-day minicamp that opens this morning on the South Side: Justin Brown, by Mark Kaboly.
Here's TribLIVE's Steelers page, our Steel Mill blog, and our photo gallery commemorating Mr. Noll's life.
Our Subway Final Word panel on WPXI-TV opened with this segment on Mr. Noll:
>> Gregory Polanco's superlative start gives the Pirates hope, by Travis Sawchik.
Here come the Reds for a three-game series.
Here's TribLIVE's Pirates page, our Bucco Blog and our photo gallery.
Here's Reds news from the Cincinnati Enquirer.
Here are official game highlights on MLB.com.
>> James Conner at linebacker for Pitt? Lawrence Timmons told him it was a good idea, by Jerry DiPaola in Harbor Creek, Pa.
Here's TribLIVE's Pitt page and our Pitt Locker Room blog.
>> The vid below has nothing to do with anything, but it's also the greatest thing ever:
>> Thank you, as always, for reading.