By Dejan Kovacevic | Trib Total Media
Morning, Lunatics …
>> The Thursday column pushes Ulf Samuelsson for the Penguins' coaching vacancy.
I'll expound on another name right here, too: Rick Tocchet is an absolute no-brainer addition to this staff. Jim Rutherford and his new lieutenants are known to be focused on finding a way to get more out of their stars and, in what can't be a coincidence, straighten out their locker room. It's an unusual dynamic, one that most teams don't have. There aren't a whole lot of Bill Guerin types out there with the moxie to speak up around players like Sidney Crosby and Evgeni Malkin.
Tocchet most assuredly is one of them. He's one of the toughest players anyone's ever seen in these parts, and he'll compete just as hard off the ice.
The latest on the search, by beat man Rob Rossi, adds another name to Rutherford's list. And if you're interested in the full list, this file is the one to click.
The Penguins' preseason schedule is released. The big one is next week.
Here's TribLIVE's Penguins page and our Chipped Ice blog.
>> The Pirates had another dark and Stolmy night. Beat man Rob Biertempfel has the game story from PNC Park.
Gerrit Cole could return next week, by Karen Price.
Here's TribLIVE's Pirates page, our Bucco Blog and our photo gallery.
Here's Reds news from the Cincinnati Enquirer.
Here are official game highlights on MLB.com.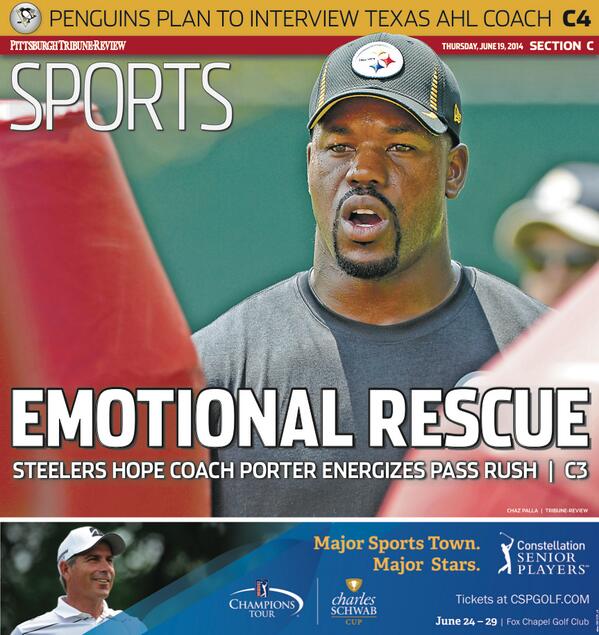 >> Joey Porter is loving his second NFL career about as much as you'd expect he would. Beat man Alan Robinson covers the Steelers' minicamp, which ends today.
Jason Worilds was never offered an extension, by Mark Kaboly.
Will Johnson is working as the no-huddle tight end, by Kaboly.
Here's TribLIVE's Steelers page, our Steel Mill blog, and our photo gallery.
>> The Riverhounds faced an MLS team, the Chicago Fire, and it was a cut-short loss. This was part of the US Open Cup tournament.

Here's TribLIVE's Riverhounds page.
Here's the official World Cup 2014 page and the U.S. Soccer page.
>> I'll check in with TribLIVE Radio at 11:30 a.m.
>> Thank you, as always, for reading.