By Dejan Kovacevic | Trib Total Media
Morning, Lunatics …
>> The Monday column is about what I love about soccer, what I hate about soccer, and what I love and hate about the general American reaction to soccer.
Oh, and it's also about these two fruit bowls that drive me nuts …
At any rate, on a day dominated by soccer across our country, there also was the small matter of this U.S.-Portugal tie that … well, you saw it. Unreal.
Here's the Trib's sports cover this morning …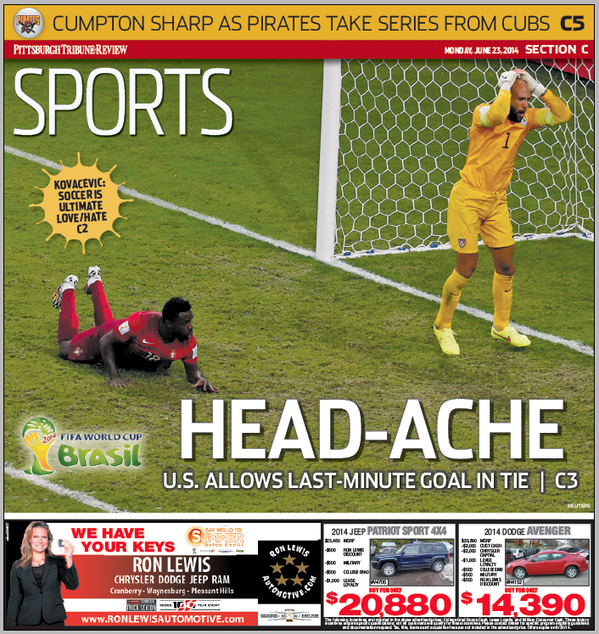 Next up, of course, is the deciding match against Germany at noon Thursday. Here are the official World Cup 2014 page and the U.S. Soccer page.
Meanwhile, on the home soccer front …
The Riverhounds are just awful. And their coach is 'disgusted,' beat man Matt Grubba reports from Highmark Stadium after the latest loss.
Blogginess from the scene: So, the Riverhounds are just awful. Oh, wait, you just read that? Well, I'll try to expound, but it won't be necessary. … When you see a team forcefully head the ball into its own goal, you generally don't have to expound. But that happened. It did. Saw it with my own eyes. … The back line has gotten better, Niko Katic assured me before the match, but it still needs so much strategic enforcement that it's crippled the areas where the Hounds should have been good. Rob Vincent, in particular, was a disaster. That wasn't always the case, but it was on this day. … So, wait, the MLS' Houston Dynamo flew up five guys to help the Hounds, and the Hounds dressed only two of them? Because? … A lot of bad things have happened to this team, but no decision has been dumber than reducing the role of reigning league MVP Jose Angulo. Angulo had another strong match, even apart from his goal, and showed yet again why all the offense should have continued being funneled through him rather than newcomer Collins John. The latter has no height, no ability to win a 50/50 ball, usually not even much of a will to gain body position. And yet since he was curiously named captain, all he's done is call for passes relentlessly that, amazingly, never make it through. If those balls were going Angulo's way, the offense would look much different. … I didn't recognize the Matt Dallman I watched yesterday. Not at all. Can no longer get a routine cross past the first defender. And this from the league's reigning assist leader. … Maybe I'll stop here. Bad team. Many problems.
Here's TribLIVE's Riverhounds page.


The Penguins will visit Winnipeg on Nov. 6. The rest of the newly released NHL schedule is covered by Josh Yohe, if you'd actually want to know more.
It's draft week and, despite some terrible recent drafting, the new front office says it plans to keep the same approach, by Rob Rossi.
Here's TribLIVE's Penguins page and our Chipped Ice blog.
Brandon Cumpton cuts down the Cubs, by Rob Biertempfel at Wrigley Field.
Andrew McCutchen talks World Cup, by Biertempfel.
Reese McGuire powers West Virginia, by Ryan Pritt in Charleston.
Here's Cubs news from the Chicago Tribune.
Here's Rays news from the Tampa Tribune.
Here are official game highlights on MLB.com.
Here's TribLIVE's Pirates page, our Bucco Blog and our photo gallery.
>> Chuck Noll and Terry Bradshaw, a complicated duo, by columnist Joe Starkey.
The Steelers are implementing helmet-cam technology, by Mark Kaboly.
Josh Miller authors a book about the Nation, by Jason Mackey.
Here's TribLIVE's Steelers page, our Steel Mill blog, and our photo gallery.
>> I'll check in with TribLIVE Radio at 11:30 a.m.
>> Thank you, as always, for reading.