By Dejan Kovacevic | Trib Total Media
Morning, Lunatics …
>> The TribLIVE Radio show today — 2-3 p.m. — will open with your calls, and the topics, as always, are up to you. Call me at 412-320-7925. Feel free to email sportstalk@tribweb.com if you can't call. But I'd rather hear from you.
At 2:30, I'll be joined by Matt Grubba, the Trib's Riverhounds beat writer, to talk World Cup, Hounds and other soccer. The man knows his stuff.
And at 2:45, we'll have more wit and wisdom from our @SuckMeter.
To listen, just click the link up top. If you're mobile, try the iPhone version or the Android version of the TribLIVE Radio app. Both are free and insultingly easy to use.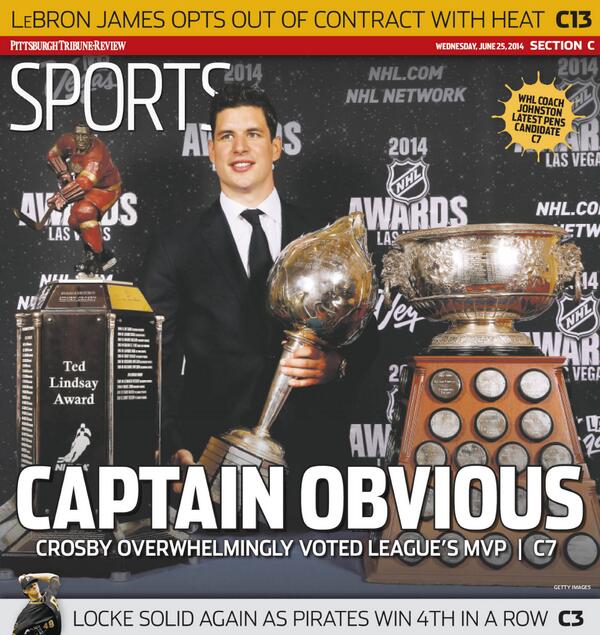 >> Sidney Crosby wins his second Hart Trophy, by W.G. Ramirez in Las Vegas.
Here's the complete list of award winners and all-star and all-rookie teams.
A junior coach? The Penguins are talking to a junior coach? Beat man Rob Rossi has that, and I shared my views on the junior coach in the the Tuesday chat.
Here's TribLIVE's Penguins page and our Chipped Ice blog.
>> Jeff Locke steps up again for the Pirates to set down the Rays. Rob Biertempfel reports from St. Petersburg.
Jose Tabata gets the boot, by Biertempfel.
Gerrit Cole is almost back, by Biertempfel.
Time for the Pirates to hit the gas, by columnist Joe Starkey.
Ken Griffey Jr. loves Cutch, by Biertempfel. And here's some of that on video:
Here's Rays news from the Tampa Tribune.
Here are official game highlights on MLB.com.
Here's TribLIVE's Pirates page, our Bucco Blog and our photo gallery.
>> Here are the official World Cup 2014 page and the U.S. Soccer page.
>> Would love if you could check out the radio show this afternoon. And thank you, as always, for reading.