By Dejan Kovacevic | Trib Total Media
Morning, Lunatics …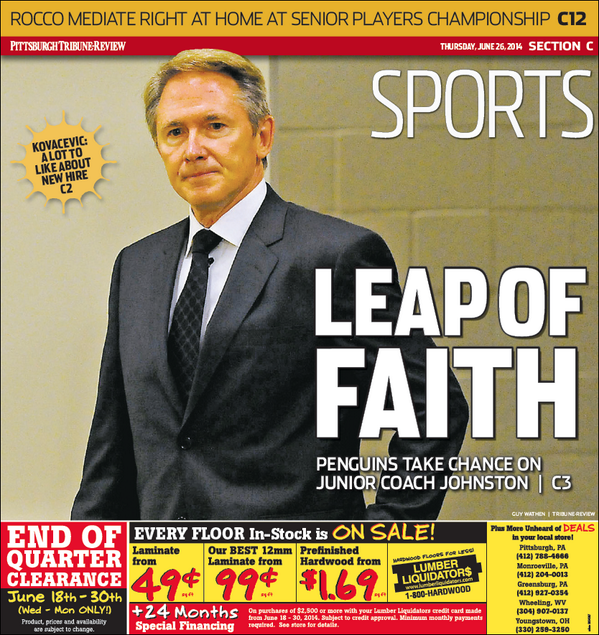 >> The Thursday column goes all Xs and Os over the Penguins' coaching hire.
Here's Mike Johnston's reply to my Q about a pack-mentality strategy:
And here's Rick Tocchet on same:
The news coverage, by beat man Rob Rossi.
Tocchet's addition is covered by Josh Yohe.
Blogginess from the scene: As with any major news story, there's so much more I'd like to squeeze into the column than space allows. The one description I left out that I'd really wanted to include was regarding Johnston's demeanor. He comes across as anything but a yeller and screamer. That will have some fearing Dan Bylsma 2.0 in that regard, but that would be premature. A real test of a coach's resolve isn't what they say or how they say it. It's what they do. … As much as anything, I appreciated hearing about the approach to the regular season as basically being a tuneup for playoffs. Don't mistake that to mean not taking the games seriously. What it means, as Mario Lemieux and Ron Burkle both told me in pointed terms last month, is that kids like Simon Despres will play. Even if it means a loss in December. … Truth be told, now that this is all done, I'd been communicating with Tocchet for a while. One thing he told me during the search that you might like hearing: 'I really welcome the opportunity to work with Sidney Crosby more than anything. Can't tell you the number of times I've watched him and thought that I could help him.' … Another NHL team that changed from a wide-open, stretch-pass offense to a pack mentality in midseason this past year was Winnipeg. And to great effect. Paul Maurice immediately installed a thought process that one should be able to see all five Jets on the TV screen more often than not. … I wouldn't be surprised to find Jacques Martin working from the booth above, as he often did this past season. That would be one enormously experienced set of eyes to have upstairs. … Best wishes to Tony Granato and Todd Reirden, both good men who worked tirelessly. … Really hoping Johnston gets sole say in the final assistant hire. He ducked a question to that effect yesterday. A head coach should be able to pick at least one man he knows he trusts. … If you read the tea leaves of everything I was told yesterday about strategy, you are most absolutely not trading Paul Martin. He sounds tailored for this. … It will be interesting to watch all concerned and how they conduct themselves this weekend in Philly, as well as beyond. It's an intriguing dynamic, to say the least.
Here's TribLIVE's Penguins page and our Chipped Ice blog.
>> David Price shows the Pirates why he's such a hot commodity. Rob Biertempfel reports on the series finale from St. Petersburg.
Starling Marte passes concussion tests, by Biertempfel.
Scouting the Mets, by Biertempfel.
Here's Rays news from the Tampa Tribune.
Here's Mets news from ESPN New York.
Here are official game highlights on MLB.com.
Here's TribLIVE's Pirates page, our Bucco Blog and our photo gallery.
>> U.S. vs. Germany with a whole lot on the line?
Yes, please! And with a game thread on top!
Here are the official World Cup 2014 page and the U.S. Soccer page.
>> I'll check in with TribLIVE Radio at 11:30 a.m.
>> I'm headed out to Philadelphia tonight to cover the NHL Entry Draft that takes place tomorrow and Saturday. There will be columns from each day.
>> Thank you, as always, for reading.