By Dejan Kovacevic | Trib Total Media
Morning, Lunatics …
>> One of my favorite qualities to my birth town is that we tend to be pretty shrewd judges of character. We can spot a phony — a Todd Graham type, if you will — with the best of them. And it doesn't take us long to toss them out on their ears or, at least, to make it onto our don't-trust-this-guy list.
But man, the bulk of the sporting public has thoroughly blown it in the cases of James Neal and Jason Grilli, at least based on the feedback I get and see elsewhere.
And both in very different ways.
Neal has been suddenly — and stunningly — vilified as some sort of locker room cancer who did even more damage for the Penguins on the ice by acting out like Matt Cooke 2.0. And it's crazy. Both of them.
Think what you want about Neals' behavior on the ice. We all see that. What I saw was a player whose effort was almost never questioned, whose production exceeded even the highest expectations set upon his being traded here from Dallas, and whose presence was pretty much demanded on Evgeni Malkin's line by Malkin himself. The two were — and are — great friends. He had the three suspensions, each of which I criticized and in once case referring to his action as idiotic, but that was over the course of 200-plus games in Pittsburgh. And, in what was something of an oddity, he really didn't have problems on a nightly basis. Those things would just kind of burst out in some situations, usually when stakes were highest.
I also saw a player who was so passionate about his work that, after a playoff win in Philly in which he was dominant, he slyly arranged for him and his teammates to skate out for the three-stars announcement, just to further stick to the Flyers and their fans. Visitors almost never participate.
Off the ice, I'm going to speak for no one else, but I do feel compelled to say that Neal was unfailingly professional, courteous and honest with me. In general, he also was — along with Sidney Crosby, Matt Niskanen and a couple others — among the few to show up and answer questions after losses, rather than sticking his teammates with those. Also, I never heard directly from any actual player that he was a problem in the locker room. Most of this is coming out now, quite  curiously, from some people who never dealt with him. Stop and think about that for a moment. People in the newly revamped Penguins front office are impugning him. Seriously. And people who never interviewed or dealt with Neal are jumping on board. Double-seriously. It's ridiculous, and it's false. Neal would get down in certain situations, but I'll take guys who care and get ticked off over guys who don't care.
You don't have to take my word for it. Ray Shero's best friend in the business, and his mentor, is David Poile, the man who just acquired Neal in Nashville. Poile just committed $20 million to Neal. Poile just told his new coach Peter Laviolette — another close associate of Shero — that Neal will be his big acquisition for the summer. What's more, there's thick speculation that Shero will inherit the Nashville job sooner rather than later, meaning Neal will be his guy again.
When our Josh Yohe asked Poile in Philly over the weekend if he'd consulted Shero about Neal, Poile declined comment. Which Poile rarely does. Read into that what you want.
Does anyone with a right mind think that Shero wouldn't know what kind of a player or person Neal is?
Or that Poile and Laviolette didn't consult with Shero to find out?
Come on.
It's been disappointing to see the Penguins try to kick Neal on the way out, just as it's been disappointing some of the fans do likewise. It isn't deserved at all.
Grilli is another story.
Most of the sentiment I gather is this gushing sentimentality over what a great guy this was, and how sad it is that he's having his heart broken, both of which — and I'll be painfully blunt here — are flaming nonsense.
I don't have to comment on Grilli the player. You saw what happened to him this season. He hit almost surreal highs in the first four months of 2013 but really was never the same after clutching his elbow coming off the mound later in the season. This year, he's been … well, again, you've seen it yourself.
As a person, and again I'm speaking for no one other than myself, I've never seen someone act 180 degrees one way around some people, then 180 degrees the other around others, quite like this individual. As soon as the cameras or microphones were on, he was Mr. Smile and all emotional and passionate and weepy or whatever. As soon as they were off, he was something else altogether. And again, I'm talking 180 degrees.
Honestly, in all walks of life, we all suffer jerks. But hey, I'll take a genuine jerk over a phony one anytime. At least be who you are.
Some of this had started to kind of creep out, not least of which was in his amazingly narcissistic book in which he compares himself to Christ and all kinds of other weirdness. Check the Google machine, and you'll find some hilarious reviews of the book.
And then yesterday, he did all of us who have known the truth for a long time a monster favor by tweeting this out to everyone after his trade …
Well, hey, now there's the way to insult the team that gave you the only chance of your baseball career at a very advanced age. Kick them on the way out. Nice.
Trust me when I tell you the players in that clubhouse will read it, and not one of them will be surprised.
I'll stop there, other than to wish Neal good luck with the Predators and beyond. As I wrote in the Saturday column from Philly, I'm in favor of the actual trade because I like how it addresses the Penguins' needs. But I also appreciate a good hockey player and good guy for what he did here.
Oh, and if anyone's interested, here's video of Grilli's initial contribution to those powerhouse Angels.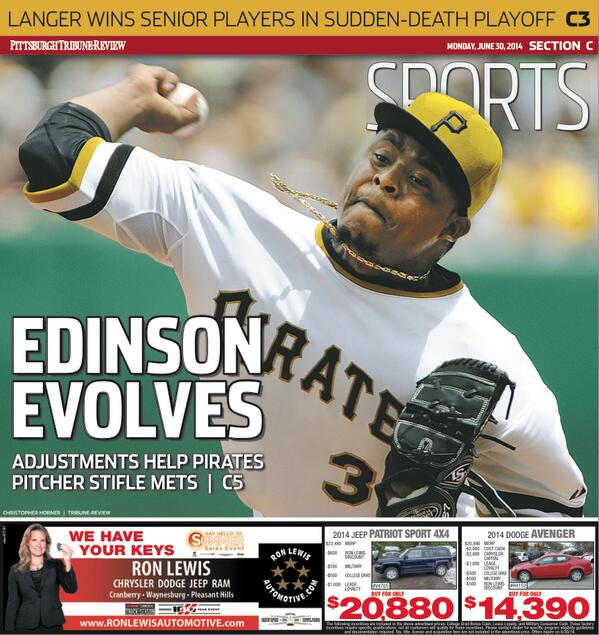 >> The non-powerhouse Pirates, meanwhile, kept right on winning. Edinson Volquez and Pedro Alvarez both appear to be straightening out, and Mark Melancon did his job at the end. Rob Biertempfel reports from PNC Park.
Clint Hurdle prefers his closer to close, by Travis Sawchik.
Tommy John surgeries are way up, by Sawchik. Good stuff in here from Gerrit Cole, Jameson Taillon and others.
Here's Mets news from ESPN New York.
Here are official game highlights on MLB.com.
Here's TribLIVE's Pirates page, our Bucco Blog and our photo gallery.



>> Mike Johnston is mostly observing the Penguins right now, by Yohe.
Looking ahead to the 2015 NHL Draft and far bigger doings, here's a Trib Q&A with presumptive top pick Connor McDavid, by Yohe.
If you missed it, this was the Sunday column in which I tried to paint a picture of the Penguins' new management team in action and philosophy.
Here's TribLIVE's Penguins page and our Chipped Ice blog.
>> Netherlands and Costa Rica go through to quarters, the Dutch benefiting from a sickening dive by Arjen Robben to draw the winning penalty. If I start complaining about soccer dives, I'll never stop, so I'll let this New York Times pic of Robben's dive do it for me …
Quite the hero.
Here are the official World Cup 2014 page and the U.S. Soccer page.
>> WPXI-TV's latest Subway Final Word had myself, Yohe, Biertempfel and host Bill Phillips going back and forth on the Pirates, Penguins, Neal, Grilli and, well, yeah, soccer dives.
>> I'll check in with TribLIVE Radio at 11:30 a.m.
>> Thank you, as always, for reading.