By Dejan Kovacevic | Trib Total Media
Morning, Lunatics …
>> The TribLIVE Radio show today — 2-3 p.m. — will open with your calls, and the topics, as always, are up to you. Call me at 412-320-7925. Feel free to email sportstalk@tribweb.com if you can't call. But I'd rather hear from you.
At 2:30, I'll be joined by Josh Yohe, the Trib's Penguins beat writer, to talk free agency.
And at 2:45, we'll have a word on the Steelers from our @SuckMeter.
To listen, just click the link up top. If you're mobile, try the iPhone version or the Android version of the TribLIVE Radio app. Both are free and insultingly easy to use.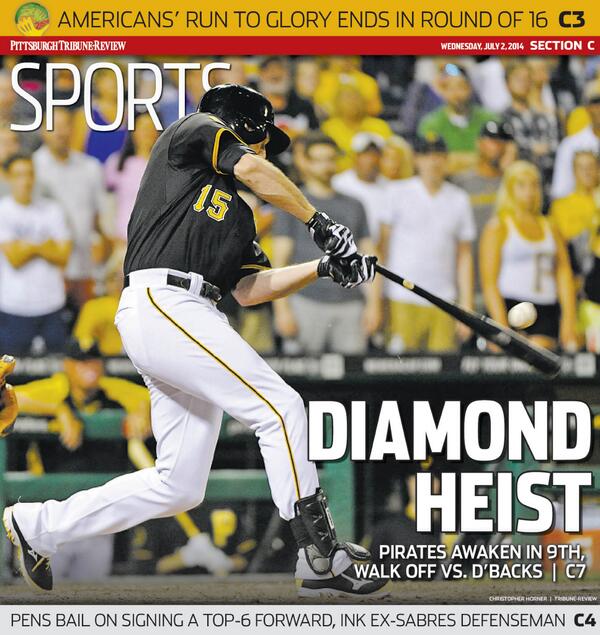 >> Ike Davis's bat was reduced to splinters, but the result was a walkoff single to cap the Pirates' electric ninth-inning rally over Arizona. The game story is by Travis Sawchik.
A couple questions I had for Starling Marte about his huge hit in the ninth:
Blogginess from the scene: The video above tells you a little about Marte's at-bat, in which Addison Reed got him to chase at two sliders for two of the ugliest hacks you'll see. What followed was a glaring mistake. Miguel Montero called for a slider, and Reed just floated it right over the plate. Terrible pitch. But give Marte credit. He'd tell me later that teams have been trying to bust him with a fastball inside after those now-infamous 0-2 counts, so he had to be ready for that or the slider. And what complicated that, as Josh Harrison was explaining to me, was that Reed's got this "super-funky angle' for his pitches and that 'it's hard to see what he's got coming.' Marte did the logical thing: 'I stayed in my zone. I was not going to go out of my zone.' … Yeah, I know, why can't he do that all the time? I don't know, either, but at least be comforted that it's a work in progress. … Harrison's throw to the plate was a thing of beauty, absolute strike. But a couple of guys inside the room were even more impressed at how he and Andrew McCutchen have developed a real rapport in the outfield, especially on gappers. There were a couple in this game in which Harrison's 'natural aggressiveness from being an infielder' took over, and Cutch smartly deferred. Tells me a lot about Harrison's mounting confidence. … This will be lost in the outcome, but Arizona's Wade Miley was really good. I write stuff like this knowing it falls mostly on deaf ears — there's really only one team out there, right? — but Miley drew rave reviews from the Pirates and deserved them all. His command was impeccable. … The Diamondbacks' defense, in fairness, was just as good. Weird team, huh? You still look at that roster and wonder what they're doing at 35-50. … Only Jeff Locke can give up eight hits and two walks and pitch eight innings, right? I put that to Clint Hurdle afterward: 'The command was up just a little bit early. But he stayed with his program, got outs when he needed them. One thing about Jeff is that he lives within the pitch. He doesn't let other things get to him.' What an answer, huh?
Catch Hurdle's even better answer about Pedro Alvarez earlier in the day? Feel free to interpret as you wish, but that bluntness on that topic is a first. Karen Price has the notebook.
Here's Diamondbacks news from the Arizona Republic.
Here are official game highlights on MLB.com.
Here's TribLIVE's Pirates page, our Bucco Blog and our photo gallery.
>> The Penguins signed Team Germany on the first day of NHL free agency. Yohe covers the acquisitions of Christian Ehrhoff and all the rest.
Brooks Orpik, Matt Niskanen, Jussi Jokinen and several others find other employment, also by Yohe.
The NHL goes mad, a column by Joe Starkey.
My own views on the beginning of free agency will part of today's radio show.
Here's TribLIVE's Penguins page and our Chipped Ice blog.



>> The Americans were terrible.
Sorry, I don't have one of those bubbly, hey-they-tried-hard parting gifts, other than for the incredible showing by Tim Howard. I see a national program that still, somehow, amazingly, hasn't developed one significant striker on the international scene in the 24 years since the 1990 return to World Cup play.
That's not good enough.
Yes, the midfield play was lacking, though Michael Bradley was at least better in this match than those beforehand. And yes, several injuries — all hamstrings, conspicuously — hurt the cause. I believe strongly Jozy Altidore could have made a difference in his ability to receive the ball in and around the box, even if he never scored. But in the end, nothing stands out like Clint Dempsey's huge letdown vs. Belgium and, in general, the lack of world-class touches when it counts the most.
The U.S. can improve its second-tier status in a lot of different ways, but it'll be nothing more than varying degrees of second-tier until there's a big-time scorer at the front. Let's hope that 19-year-old Julian Green's wonderful goal in extra time is a harbinger.
On the bright side, a lot of folks were invested, including in our own jam-packed Market Square:
Here are the official World Cup 2014 page and the U.S. Soccer page.
>> Hope to hear from you on the show today. Thank you, as always, for reading.