By Dejan Kovacevic | Trib Total Media
Morning, Lunatics …
>> The TribLIVE Radio show yesterday opened with a discussion about the Penguins' showing in free agency to this point, and video of that segment is right here:
Also on that front, Christian Ehrhoff was introduced to the Pittsburgh media, including our Josh Yohe.
Total loose cannon Steve Downie was signed, by Yohe.
And Brooks Orpik is interviewed by columnist Joe Starkey. Those who appreciate what No. 44 meant to the franchise for a decade-plus owe themselves to read this. Compelling material.
Here's TribLIVE's Penguins page and our Chipped Ice blog.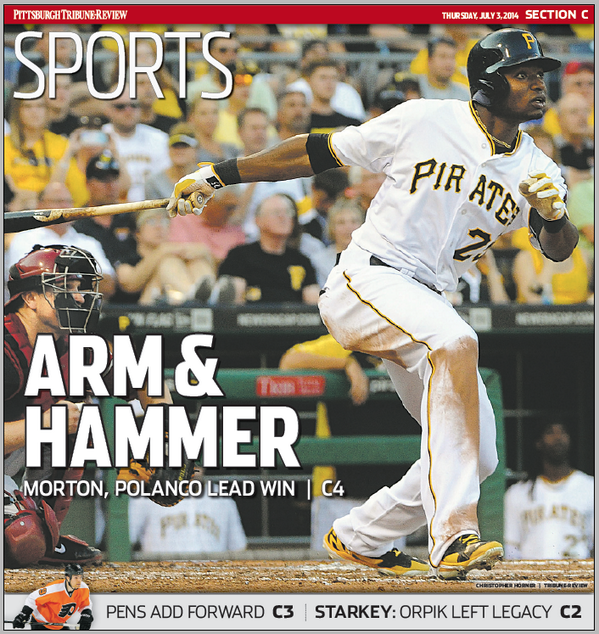 >> Gregory Polanco's early triple and homer launch the Pirates to yet another victory that has them a season-high four games over .500. Travis Sawchik reports from PNC Park.
Charlie Morton had a solid quality start, and here are a couple Qs I had for him specifically about his four-seam command that sometimes nags:
Blogginess from the scene: Had another chance to kind of roam the locker room last night, with no column due until tomorrow's editions, so part of my focus was on a play Jordy Mercer made up the middle late in the game. Bouncer, he collected it deep, whirled in a 360, then fired a throw to first. 'No big deal,' Mercer told me with a shrug. 'It's a play I do every day in practice.' Not so fast, his partner Clint Barmes would correct later. 'Not everyone does it with the spin. I have to keep my body facing first. I'll find a way to face that way. Jordy likes to do the spin, and I've got to tell you, it isn't easy at all. It's to his credit, absolutely.' … Jeff Locke told me he believes the Pirates' starters are being allowed to run up higher pitch counts this season and is really, really happy about it. I don't have numbers to support that, but it sounds right. Anyone got the data? … To say Starling Marte is starting to look and sound more comfortable in a major-league setting would be understatement. He claims that he'll do group interviews without a translator only if I'm there — I've known him, basically, since childhood — but it isn't the case. He's done more than one, and he's done just fine. More striking, last night, he rode out of the clubhouse on one of those segue devices, except this one had just one wheel. … Starting to hear about 'The Polanco Effect' on the Pirates. He's great, but let's not rewrite history: The team was 17-13 in the 30 games before his arrival and, in that span, ranked at or near the top of several offensive rankings. This didn't come out of nowhere. Moreover, Polanco's Pirates have faced the Reds, Rays, Cubs, Mets and Diamondbacks. … Everything Polanco generates comes from his passion for driving the ball the other way. Clint Hurdle loves it, and it's easy to see why. 'Keeps him on every pitch,' the skipper was telling me a couple nights ago. Brought that up with Polanco last night, and here's the video of that exchange:
Andrew McCutchen is National League player of the month.  Karen Price has the notebook.
Here's Diamondbacks news from the Arizona Republic.
Here are official game highlights on MLB.com.
Here's TribLIVE's Pirates page, our Bucco Blog and our photo gallery.
>> The Riverhounds won in Dayton on a couple goals by Mike Green, one of the few consistently bright spots in this otherwise lost season. Matt Grubba reports.
Here's TribLIVE's Riverhounds page.
Here are the official World Cup 2014 page and the U.S. Soccer page.
>> I'll have columns Friday, Sunday and Monday, and I'm expecting all three to be on the Pirates. Thank you, as always, for reading.