By Dejan Kovacevic | Trib Total Media
Morning, Lunatics …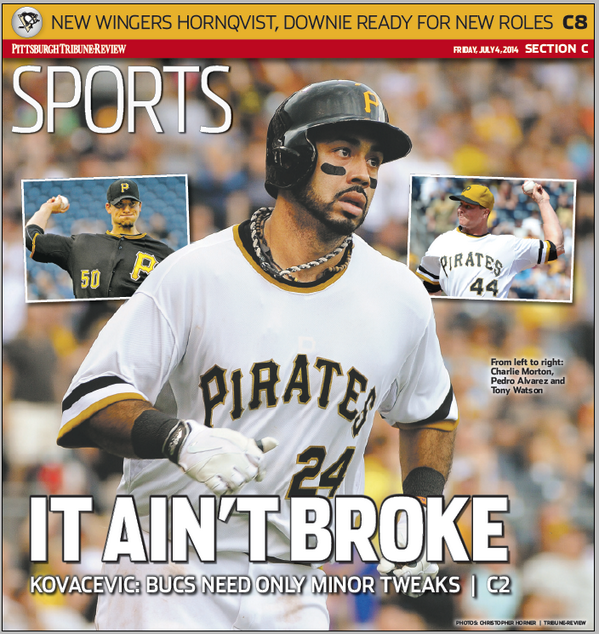 >> The Friday column offers three wholly unsolicited slices of advice for the Pirates to become serious contenders in the National League.
I look forward to your feedback on these, as well as any other ideas you might have.
Another chance to sweep, another loss. Travis Sawchik reports from PNC Park.
Francisco Liriano is being farmed out, by Rob Biertempfel.
The Phillies are on deck, by David Golebiewski.
Blogginess from the scene: Ike Davis' early RBI single sparked such an emotional reaction from the crowd of 27,473, an immediate and vocal 'Let's Go Bucs!' that it actually startled me. Not much at that place does. That did. These people are ready to take off if the team does. … All of Arizona's damage off Vance Worley came in the span of seconds, it seemed, but he was overall strong again, confident, in command. He's above-and-beyond earned his spot in the rotation. … It was curious when Clint Hurdle used Ernesto Frieri the first time in a tight game. It was confounding last night. The next time would be indefensible. The guy's got things to work out, and it shouldn't happen at the team's expense. … Pedro Alvarez thrown out at second? Come on. At some point, the identity goes from aggressive on the basepaths to stupid on the basepaths, and it sure looks like that point was passed a few miles back. … Gregory Polanco made one fine running catch, pictured above, but continued to have trouble with his back to the Clemente Wall. Give it time. Rick Sofield, the outfield instructor, told me that's a challenge even for major-league vets. It's hard to get a read off the track, and it's harder still to gauge how and when to back and play the carom. Part of the wall is hard, part is mesh fence. If it hits the hard part, it can ricochet way out. If it hits the mesh, it plops right there. … Best ever at playing that wall: Craig Wilson. And he worked at it. … The Diamondbacks have no business being 15 games under .500. Classic example of a team that gets off to a horrendous start and can't recover. … Oliver Perez was booed. What in the world did Perez do? What is this civic reflex to boo a familiar name on another team? And that's all it is, too. There are no other rational explanations.
Here's Diamondbacks news from the Arizona Republic.
Here's Phillies news from the Philadelphia Inquirer.
Here are official game highlights on MLB.com.
Here's TribLIVE's Pirates page, our Bucco Blog and our photo gallery.
>> Patric Hornqvist expressed excitement at joining the Penguins, by Josh Yohe.
As did Steve Downie, also by Yohe. Call me a sucker for a good introductory press conference, but I liked a lot of what Downie had to say. I don't like this signing. At all. But I like what he had to say, and it will be interesting to see if he can follow through.
Alexei Kovalev retired. We'll never see another quite like 27, that's for sure.
Let's celebrate in style:
Here's TribLIVE's Penguins page and our Chipped Ice blog.
>> The Riverhounds host Rochester on this Fourth over at Highmark. Matt Grubba will cover.
Here's TribLIVE's Riverhounds page.
Here are the official World Cup 2014 page and the U.S. Soccer page.
>> I'll have columns Sunday and Monday on the Pirates. Thank you, as always, for reading.