By Dejan Kovacevic | Trib Total Media
Morning, Lunatics …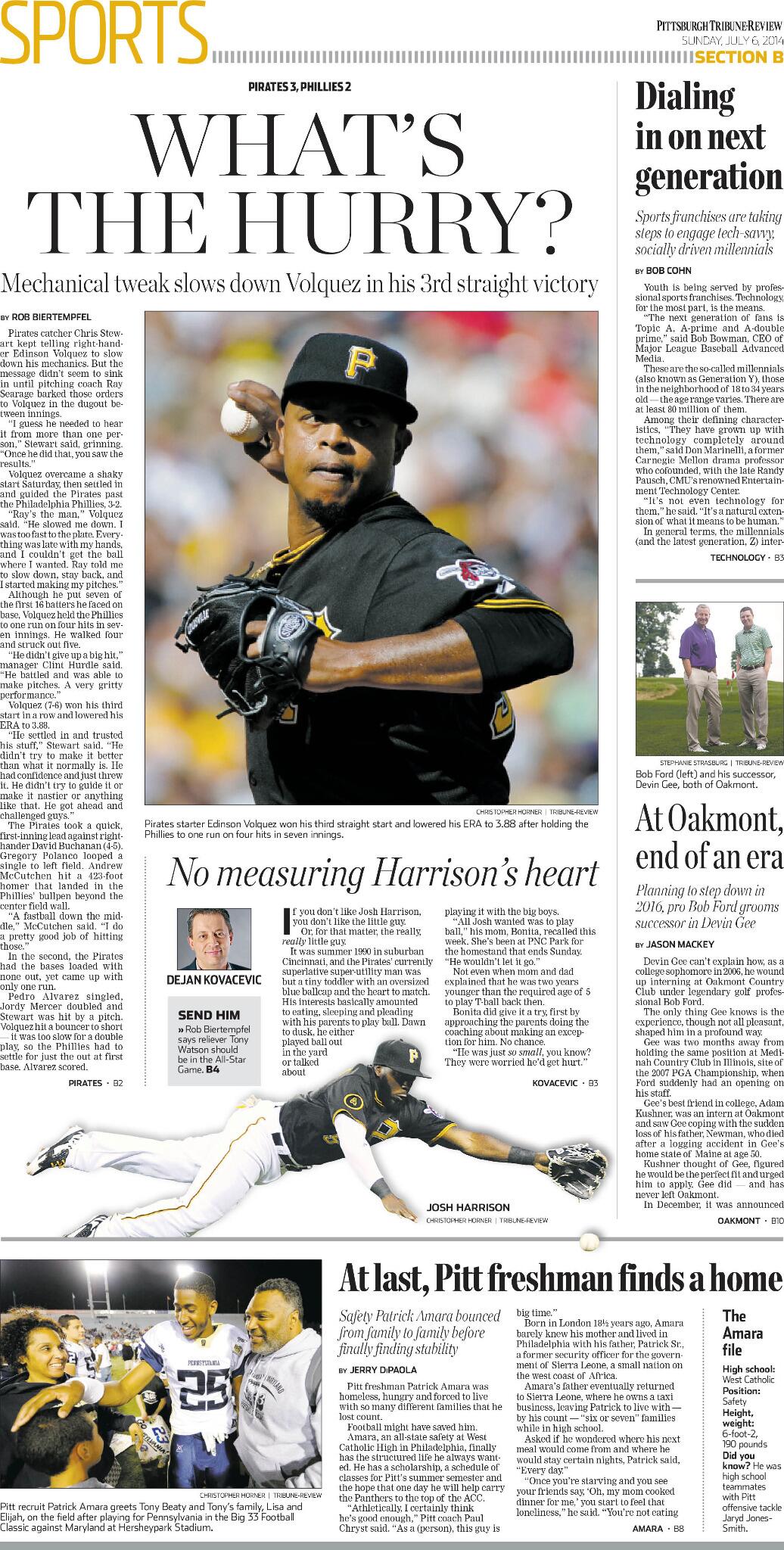 The Sunday column is about Josh Harrison. I hope you have a chance to read this one.
I have many people to thank for above-and-beyond cooperation for this piece, notably Bonita Harrison for the background and the unbelievable photo that accompanies the online column, Brian Cleary for the University of Cincinnati background and Jeff Branson for his help in assessing the current Harrison at the plate.
Here's a video interview of Branson, the Pirates' hitting coach, from yesterday:
I've also got a related story for you here on the blog, one that really didn't fit with the column:
Four years ago, the guy researching, ranking and writing the Pirates' minor-leaguers for Baseball America's annual Prospect Handbook had hit a wall.
The system's top 29 prospects were all done, but a 30th and final prospect was needed. And that was always the most challenging choice. That was the one that would cast off everyone else as spare parts or journeymen in the industry's most-read journal.
Tough call.
But no tougher than the call that researcher guy got one day from  Harrison's agent, Jonathan Maurer. Maurer wasn't one of the big shots in the business, so he was more attentive than most at looking after his lesser clients' needs. And he wanted to do all he could to ensure Harrison's name made it into this book.
"I'll tell you this right now," Maurer spoke into his cell after making an impassioned case. "If you leave him out, you're going to look pretty dumb when he makes it."
The researcher guy promised he'd do his diligence. No. 30 was down to Harrison and pitcher Phillip Irwin. So he called Darren Mazeroski, son of Bill and the scout who'd signed Irwin. Younger Maz put in some good words for his pitcher but wasn't overly convincing.
The next call went to Jeff Banister, the Pirates' current bench coach but then a roving minor-league instructor.
"It's got to be Harrison," Banister said, almost with a sigh. "All he does is prove us wrong. He'll prove you wrong, too."
Well, yesterday, the researcher guy approach Banister again, this time in the Pirates' dugout just after batting practice and asked Banister if he happened to remember this.
'Sure do,' Banister came back. 'And you picked him 30th just to make sure you wouldn't look stupid.'
That's right, the researcher guy replied. And from there, it was only the Pirates who could look stupid, he added.
'Ha!' Banister exclaimed. 'Only when we leave him out of the lineup.'
Banny and I shook hands, and I was off to file the column.
The Pirates are five over .500 after flattening the Phillies again. Rob Biertempfel reports from PNC Park.
Gerrit Cole insists he's fine, by Karen Price.
Tony Watson as All-Star? Biertempfel makes a case.
Top prospect Alen Hanson rebounds from discipline, by Bob Cohn in Altoona.
Here's Phillies news from the Philadelphia Inquirer.
Here are official game highlights on MLB.com.
Here's TribLIVE's Pirates page, our Bucco Blog and our photo gallery.
I'll be back at the ballpark today for a Monday column on the Pirates, then take two weeks of vacation. Thank you, as always, for reading.