By Dejan Kovacevic | Trib Total Media
Morning, Lunatics …
>> The Monday column from PNC Park is about that gentleman up there completing an RBI triple off the center-field fence yesterday, and why there just might not be anybody better. Anywhere.
Andrew McCutchen also was formally announced to the All-Star Game, as were Tony Watson and Josh Harrison. Because, you know, it's every day that a setup man and utility guy go together.
News coverage of the All-Stars is by Karen Price.
Here's Cutch taking my question on the national recognition he's getting:
Here's Watson on his striking consistency:
And here's J-Hay on J-Hay:
Neat stuff, all of it, but especially Harrison. You can see his reaction up there and appreciate how much it means. And if you want even more, the Sunday column was J-Hay from front to finish. Hope you have a chance to check it out.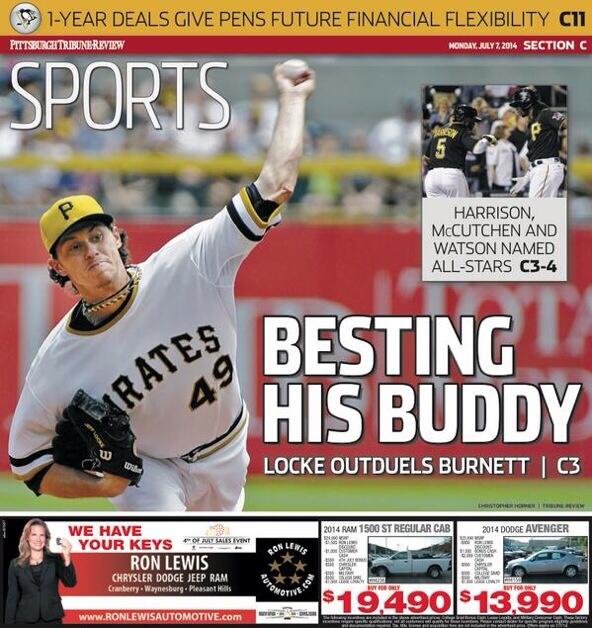 Jeff Locke outdueled good friend A.J. Burnett, as the Pirates just kept on winning. Travis Sawchik reports from PNC Park.
A bad break for Clint Barmes, by Price.
Here's Phillies news from the Philadelphia Inquirer.
Here's Cardinals news from the St. Louis Post-Dispatch.
Here are official game highlights on MLB.com.
Here's TribLIVE's Pirates page, our Bucco Blog and our photo gallery.
>> Jim Rutherford loves the short-term deal, by Josh Yohe.
Here's what our panel on WPXI-TV's Subway Final Word had to say about Brandon Sutter's future.
Here's TribLIVE's Penguins page and our Chipped Ice blog.
>> Pitt basketball soon have an all-local quintet, by Kevin Gorman.
Here's TribLIVE's Pitt page.
>> This is it for me for a couple weeks. I'm taking two weeks off, and that means everything. No columns, no chats, no TribLIVE Radio shows, no Final Word, no social media, no nothing at all.
It's mostly about the timing, in addition to being, in all honesty, running somewhat on empty at this point. The Steelers are nowhere to be seen until reporting to Latrobe on July 25. The Penguins' picture finally has settled a bit. And the Pirates are on the road all this week, followed by the All-Star break next week. Fact is, this is about as dry a spell for a sports columnist as anyone could manufacture.
Game threads and vacation threads will still pop up here, of course.
I'll be back to full duty July 21.
And no, I'm not going anywhere. At least I don't think so. When you travel as much as I do on the job, the last thing you're inclined to plan for a break is more travel. There's a chance we'll go up to Erie. Kids like it there. But beyond that, nothing more exotic than Downtown, Starbucks and the standard fare.
Thank you so, so much for reading. The audience for this blog has grown quite a bit in recent months, but I'll also include followers on social media or plain old readers who just read. It's never taken for granted, always appreciated.