By Dejan Kovacevic | Trib Total Media
Morning, Lunatics …
>> The Tuesday chat is at 1 p.m. right here on the blog. Would love to have you along. It's super-easy to participate. Just wait for the chat post to go up, usually around 11 a.m., and type your Q into the field. No fee. No signup. No registration. That's it.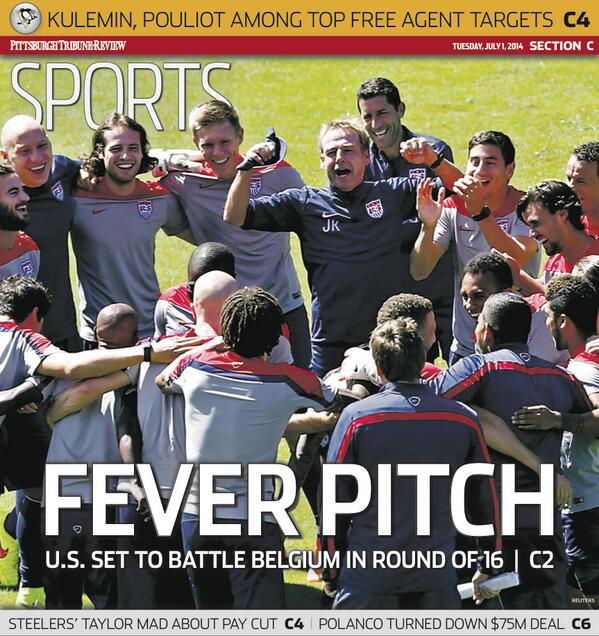 >> There's a lot going on in local sports today, as we'll get to imminently, but it's all going to take a back seat to the bigger scope.
A preview of today's World Cup match vs. Belgium, by the New York Times.
If you want to watch among friends, Market Square is putting up a big screen. This was done at the initiative of Mayor Bill Peduto and good friends Mikey and Bob at 96.1 Kiss FM. A fine idea, gentlemen.
A fantastic article about African nations — all out now — and the players demanding cash payments that often never come, also from the Times.
FIFA declines to punish the Dutch Diver Arjen Robben. This piece is filled with excellent background about soccer's attempt to curb the practice.
Luis Suarez vows to stop biting people. Inspirational.
Here are the official World Cup 2014 page and the U.S. Soccer page.
Also in soccer, the Riverhounds play tonight in Dayton. Beat man Matt Grubba has that.
Here's what our panel had to say about soccer diving on WPXI-TV's Subway Final Word:
>> Nikolai Kulemin and Benoit Pouliot will be two of the Penguins' targets when NHL free agency opens today at noon, by beat man Josh Yohe.
James Neal was all upbeat, all class in his initial meeting with the Nashville media, by the Tennessean. Turns out Neal heard about being traded while he was among the handful of then-Penguins invited to Matt Niskanen's wedding. You know, one of those events where you invite locker-room cancers and the like.
In addition, Neal tweeted this last night …
And shortly after that, Neal got this tweet back from someone in Pittsburgh …
Here's TribLIVE's Penguins page and our Chipped Ice blog.
>> Gregory Polanco turned down the Pirates' $75 million offer, by beat man Rob Biertempfel.
Andrew Lambo remains in limbo, by Biertempfel.
Here's Diamondbacks news from the Arizona Republic.
Here are official game highlights on MLB.com.
Here's TribLIVE's Pirates page, our Bucco Blog and our photo gallery.



>> Ike Taylor is still ticked at the Steelers over the pay cut, by Mark Kaboly.
>> Let's hear from you in today's chat! And thank you, as always, for reading.